On the final day of the NATO-Ukrainian maneuvers "Sea Breeze 2017", 16 warships came out to maneuver. Ukrainian ships took part in the maneuvering: "Getman Sahaidachny", who need to participate in joint exercises with NATO in no way gives the opportunity to get repaired, boats "Priluki", "Berdyansk", "Skadovsk" and "Akkerman", ships of the Coast Guard, including "Gregory Kuropyatnikov".
From the composition of foreign "partners": the Romanian frigate F111 "Maraseshti", which did not even enter the Odessa seaport, the Turkish submarine S349, and also the US Navy.
An American Poseidon patrol plane flew over the ships, apparently, demonstrating "unlimited American support for Ukraine."
The representatives of the Ukrainian Navy Institute decided to demonstrate their skills. It is about the Odessa Maritime Academy. The cadets of this military university made a voyage on boats. Apparently, the boats were used for the reason that there weren't enough warships for all representatives of the Navy ... There was nowhere for an apple to fall from them from Ukrainian admirals
fleet
...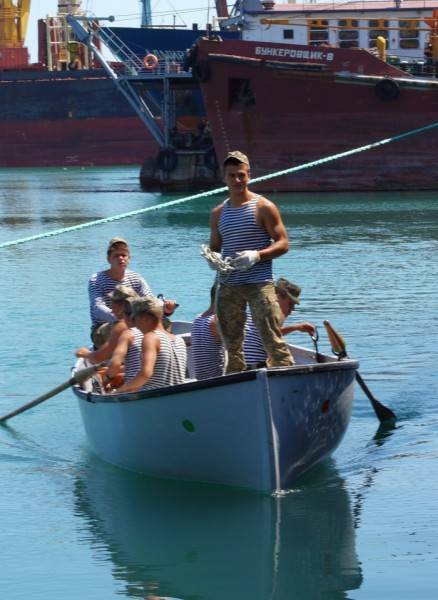 The hike took the course Odessa-Ochakov-New Kakhovka-Odessa. Its length is about 140 nautical miles. The first 70 miles cadets walked on the oars, then the boats JL-6 about 70 miles more sailed.