According to the press center of the ATO on his Facebook page, under the city of Krasnogorovka in the Donetsk region (on the territory controlled by Kiev), the militiamen were able to break through the positions of the Armed Forces of Ukraine (APU).
According to the Ukrainian military, July 20, a sabotage and reconnaissance militia group attacked the positions of one of the mechanized battalions of the Armed Forces of Ukraine.
Considering the suddenness of the enemy's strike and the fighting losses of the Ukrainian defenders, the division commander, to save the lives of his brothers, decided to move to an intermediate position
- the report says.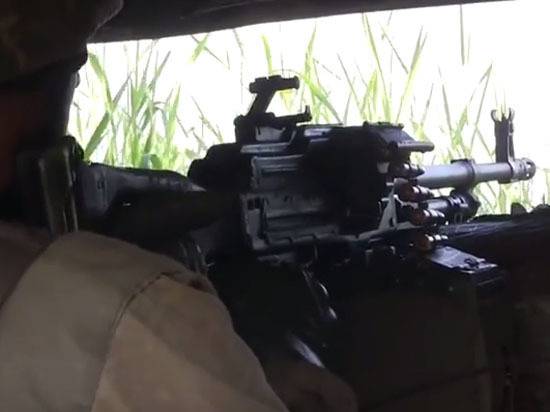 During the battle, three APU fighters were killed, one was captured. As they say in the press center of the ATO, "under the pressure of a massive rifle fire from the position of Ukrainian soldiers, the enemy was forced to withdraw."
On July 20, the Ukrainian military also informed about the death of nine Ukrainian servicemen. According to the representative of the Ministry of Defense of Ukraine, six soldiers of the Armed Forces of Ukraine died in the Donetsk region - in the area of ​​Krasnogorovka, Marinka and Novgorod. In the Luhansk region, three soldiers were killed as a result of an explosive device.
The information on 21 July was voiced by the speaker of the Ministry of Defense of Ukraine on ATO issues (Kiev calls opposition in the south-east of the country an antiterrorist operation) Andrey Lysenko, who voiced other figures, stating that five Ukrainian servicemen were killed in the conflict zone in the Donbass over the past 24 hours.
In particular, one soldier died from a sniper's fire near Novgorodsky, three during a battle near Krasnogorovka, another one during an attack on the Butovka Mine position. Eight Ukrainian military were injured, seven of them in the Krasnogorovka area, and one "Mine" Butovka ",
- told Lysenko.
At the same time, a representative of the DPR Ombudsman's Office told reporters on Friday that during the week as a result of the hostilities, four people were killed, 20 was injured in the self-proclaimed Donetsk People's Republic.
From 14 to 21 in July 2017, on the territory of the DPR, injuries of varying degrees of severity, as a result of armed aggression from Ukraine, received 20 people, including 13 soldiers of the republic. During the same period, four people were killed, three of whom were soldiers.
- Said a representative of the Office of the Ombudsman of the DPR.
Also in the DPR they added that since the beginning of the year, 182 people, including one child, died in the DPR territory, 441 people were injured, nine of them children.