The main "fun" of the US Senate in searching for the "hand of Moscow" in the intra-American processes today has played with new facets. Republican Senator Tom Cotton, representing the state of Arkansas, agreed to the point that he said the following: "
History
Russia's interference in the internal affairs of the United States has long roots. " According to the senator, Russia since the USSR tried to destabilize the situation in the United States, for example, "by financing protests in the States and Western Europe against the deployment of American medium-range and shorter-range missiles on European territory".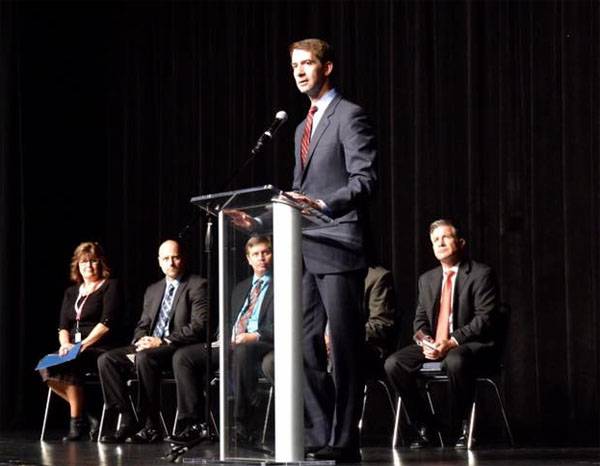 Tom Cotton announced that the financing of the protests allegedly went through the Soviet government.
With such statements, the representatives of the American authorities actually make it clear that any protests in the post-Soviet space, including those that became harbingers of "color" revolutions, were conducted with the active financing of the United States. Otherwise, where would this kind of rhetoric come from and even with the reference to the 1983 year?
The same US senator told Georgia and Ukraine in absentia that these countries would not be able to be part of NATO in the near future. The Ukrainian version reports this with reference to the lawmaker.
"Voices of America"
. Cotton argues that "Russian troops are in the territories of Ukraine and Georgia". In fact, the US senator makes it clear to Kiev and Tbilisi that if in the modern realities they continue to take steps to join NATO, then they consciously refuse "part of their territories."