According to the information of the Internet portal
sudostroenie.info
, the press service of the Eastern Military District reported on the July 14 solemn ceremony of raising the naval flag of the Russian Federation on the 4th at the 20 berth in Vladivostok.
20380 Corvette
"Perfect".
On July 18, the ship arrived in Vladivostok from Bolshoy Kamen due to the end of state tests. It is assumed that the ship will be part of the 114-th brigade of surface ships of the Joint Command of Forces and Forces in the North-East of the Pacific Fleet, located in Zavoyko Bay in Kamchatka.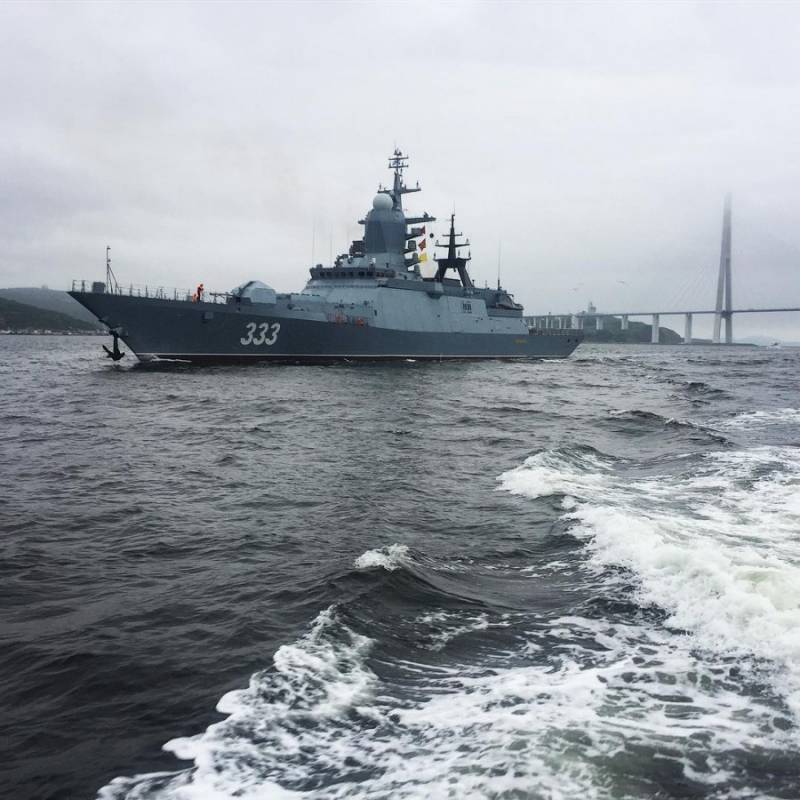 Corvette was built in accordance with the contract with the Ministry of Defense of the Russian Federation on January 26 2006 (renewed in May 2014 of the year). Bookmark took place at the Amur Shipyard in Komsomolsk-on-Amur 30 June 2006. Until that time, surface ships in the NEA last built more than 50 years ago. Launched 22 May 2015. Was being built in the Big Stone on the Pacific coast. Factory trials began on January 30 2017.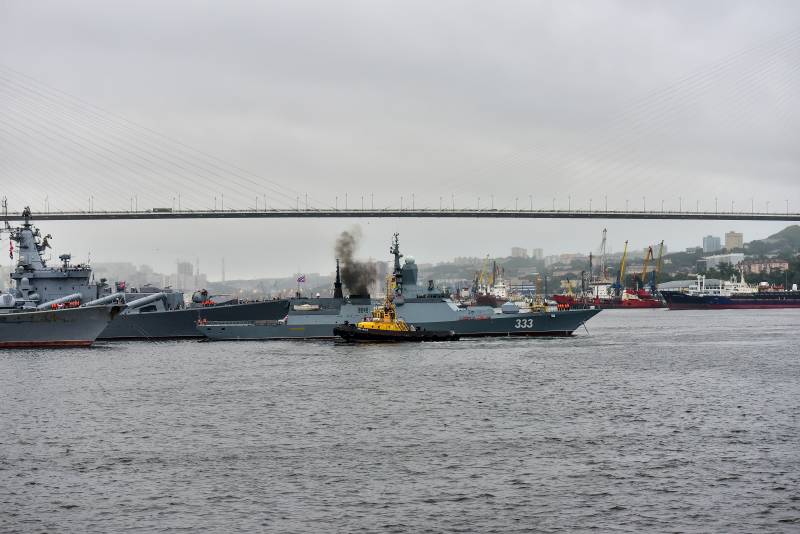 The project developer is Almaz Central Metallurgical Bureau. It is intended for operations in the near-sea zone and conducting combat with surface ships and submarines of the enemy, as well as for artillery support of the naval assault forces during amphibious landing operations. Built using stealth technology.
The armament is based on the Uran anti-ship missile system and the Redoubt anti-aircraft missile system. Additionally, they are equipped with artillery and anti-submarine weapons, there is a helicopter.
Displacement - 1800 t. (Standard); Xnumx t. (Full)
Length - 90 m. (KVL); 104,5 m. (Highest)
Width - 13 m. (Greatest)
Draft - 7,95 m. (The largest with bulbs),
Engines - 4 diesel 16D49, 2 shaft,
Power - 23 320 l. with. (17 140 kW),
Mover - 2 five-bladed propeller,
Travel speed - 27 nodes (full); 14 nodes (economic)
Navigation range - 3 500 − 4 000 miles on 14 nodes,
The autonomy of the voyage is 15 days (for reserves of provisions),
Crew - 99 people.