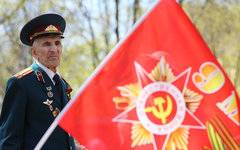 The reason for the longevity of the myth of the "identity of Nazism and communism" - one, perhaps, of the most enduring delusions of the mass consciousness - is that so many people are interested in it.
First of all, it is an obligatory "theoretical base" of the notorious "review of the results of the Second World War".
The "revision", also referred to as "falsification," is just an instrument for solving applied political problems, realizing quite specific current and strategic interests of large world players.
***
In addition, in the myth are interested, firstly, those who at one time diligently cultivated Nazism as a means against communism. After 1945, when the bestial nature and inconsistency of Nazism were convincingly proved, the ideological descendants of those who formed and supported it at one time, naturally, will try to get rid of the accusations by referring to the fact that, say, those whom we supported Nazism, no better than the Nazis themselves.
Secondly, all those who are now against communism are naturally interested in this myth, and they want to link communism with deliberately disgusting Nazism precisely in order to be able to blame communism for the crimes of which Nazism is guilty.
stories
Joseph Stalin and Lawrence Beria are accused of precisely those massive crimes with which they were very actively fighting. (Although, of course, Stalin is responsible for them - but precisely as the head of state, who by definition is responsible for everything that happens in this state; in this case, we are talking about the accuracy of the wording).
Finally, the myth of the unity of Nazism with communism benefits the totalitarian sect "liberals", which motivates its absolute rejection of any form of collective activity and its absolute rejection of any other points of view, except for its own, references to the fact that other points of view are obviously totalitarian, and therefore do not deserve consideration at all.
Although, as extensive historical experience has shown, totalitarianism by itself cannot be either good or bad - I had once published an article in "Izvestia" about it, "Totalitarianism is a struggle".
Totalitarianism is only a way to concentrate all the efforts of society on one goal, and not totalitarianism as a means, but the goal for which it is used, can be good or bad.
***
Well, in essence, this myth is absolutely erroneous if only because the Nazis discriminate against people on the basis of some signs that people cannot change in principle: a person cannot change his race - and after all, the ideology of Nazism is based on it .
Whereas communism, on the contrary, believes that every person can change in all of their socially significant characteristics, and, roughly speaking, a landowner or capitalist may well become a nonmembershipist and non-capitalist — indeed, many prominent figures of the communist movement come from families whose social position is very far from the poor, and they nevertheless went to the revolution.
And now this distinction is quite enough to see a clear discrepancy between Nazism and communism.
But perhaps more importantly, Nazism fundamentally cannot achieve the good for all - precisely because it considers people to be unequal from the start, and it is seeking good for some at the expense of others. Whereas communism sets as its ultimate goal an equal good and equal happiness for all without exception.
And this is also quite enough in order not to put an equal sign between them.
***
Thus, the subject of discussion and study may be the consistency or inconsistency of communism as a scientific theory. The subject of discussion and study may be the Soviet experience of the practical implementation of this doctrine in the state construction of the twentieth century ... But "the identity of Nazism and communism" cannot be any subject.