Becoming the president of France, Emmanuel Macron did not justify the hopes pinned on him, and surprised many. Especially in Brussels and in Berlin. Hope does not come true that he will become an obedient Hollande and will hold on to Merkel's skirt, as Marin Le Pen, the leader of the National Front, has rashly predicted by his rival in the presidential elections. Merkel, of course, in even more mourning.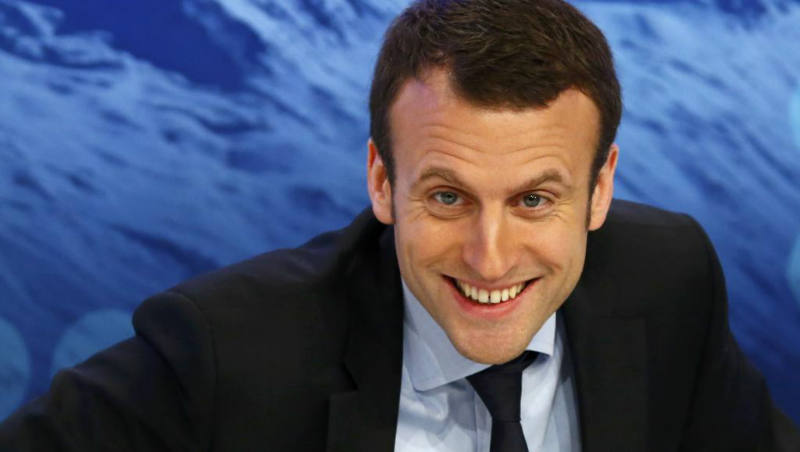 Macron began his presidential policy by
historical
an excuse, from Peter I, invited Vladimir Putin to Paris. Clouds of observers wrote that the aspiring president is thus simply gaining political weight and experience: he is, as it were, challenging Putin himself. A royal reception was given to the Russian president in Paris, and this is the main result of his visit to Macron.
Then Macron invited President Donald Trump to Paris to participate in a national holiday, and also under the specious French-American historical pretext, the arrival of American troops in France, during the First World War, for the war against Germany. Moreover, Macron led President Trump to Napoleon's grave, as if hinting at his Napoleonic plans, or Trump?
In addition, Macron made an anti-German statement, supposedly Germany "extracts billions of dollars from European imbalances". Perhaps, it extracts, however, Hollande did not allow himself such statements. During the presidential campaign, Macron even used the word "Frexit", of course, in a hypothetical sense, if the interests of France were infringed upon by the European Union, which seemed impossible.
It was yesterday, and today, after a scandalous statement about "European imbalances", Macron's reservation about Frexit already looks promising. What did he talk about with Trump in general, doesn't he change Merkel and Europe? - ponder now, for sure, in Berlin.
Trump blessed Brexit, and also blames Germany for "trade imbalances" with America. Macron just repeats Trump's claims on Germany! Is Frexit ready, and invites Trump, to enlist his support in the case of "imbalance" with Germany?
And what about Merkel? Just yesterday, the entire political science army repeated, like Marine Le Pen, that Macron would become an obedient friend of Merkel - the strength of the German economy will prevail! - and today Merkel silently swallows Macron's hooligan charges! And he repeats, like a mantra, the thesis about European unity in relations with America. It seems that Merkel's European unity may unexpectedly rest in the tomb of Napoleon, Macron's unexpected antics to the guarantee.
In general, the wise reasoning of various experts about the youth and inexperience of Macron, who is building his (!) Policy, so you need to show indulgence to him, just cry! It turns out that the fate of France depends on the luck of Macron, as if he was already Napoleon!
For some reason, the old truth is completely forgotten that the king is being made by a retinue. Macron made the president exactly a retinue, most likely from the French special services and business. Brussels and Berlin in this process played the role of extras, so today they silently look at all the escapades of Macron.
We forget today that the election of Macron became the burial of the French democracy, they showed what its "systemic oldest parties" really are - zero! The entire democratic political party of France was utterly defeated by the special project "Macron", which was spun from scratch for some six months! All political leaders opposing Makron were not only doused with compromising material, criminal cases were also initiated against them! What can not be done without the active participation of the special services. By the way, according to American designs! And the "Russian hackers" were prepared, but they were not needed, because Macron won without them.
Where is the praised French democratic society? It also turned out to be fiction. Although all French politicians, and even taxi drivers, understand the origin of Macron's success, although the whole French party system lies in ruins, voters vote for Macron's party replica! A powerful PR campaign in the media for Macron easily cleared the brains of a supposedly sophisticated democratic experience for a French voter!
Who is really Macron? A dark horse, and an obvious henchman of the French special services and certain financial and industrial circles. They speak in his voice, so Chancellor Merkel is silent on Macron's challenging accusations: she doesn't know who she's really dealing with, or, conversely, knows too well, so she carefully considers her words.
In fact, Macron, with the security forces behind him, becomes the dictator of France, given the great powers of the French president. It seems that he is not by chance, not from his whim, invites to Paris and Putin and Trump: he promises to be for some - French Putin, for others - French Trump. With these demonstrative foreign policy actions, Macron confirms its statements about the "great France", just like Putin and Trump, respectively, about Russia and America.
And the French are happy with Macron, say opinion polls. They are pleased with the special operation "Macron", and the fact that the French democracy is dead!
The upcoming reform of the European Union into a "Europe of two speeds" promises to be an exciting spectacle. The matter is not at all in Macron, it is becoming more and more serious: the Napoleonic spirit is reviving in the French elites
Macron went camping:
He prayed,
Putin took communion,
He fought on Merkel! ..