About 2,8, thousands of military personnel from eight NATO countries and alliance partner countries will take part in the Noble Partner 2017 multinational exercise ("Worthy Partner - 2017") at the bases of the Georgian Ministry of Defense near Tbilisi from July 30 to August 12, reports
LOOK
Exercises of this type will be held in Georgia for the third year in a row. For the first time, German Boxer armored personnel carriers will be involved in them. American will also apply
Tanks
"Abrams" and infantry fighting vehicles "Bradley" and "Strikers". An American military aircraft of the S-130 type will be involved in the exercises.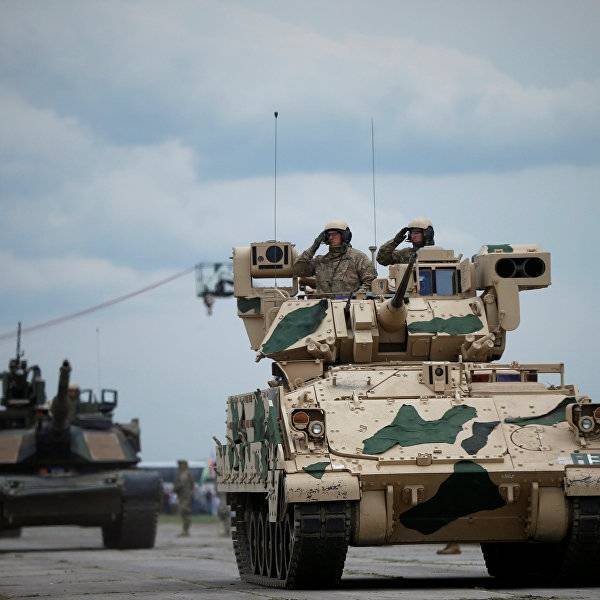 Elements of interaction between NATO military and partners in defensive and offensive operations will be developed.
Military personnel from Germany, the USA, Ukraine, Georgia, Great Britain, Turkey, Armenia and Slovenia will take part in the exercises.
We remind you that the next NATO maneuvers in 2016 took place from 11 to 26 in May near Tbilisi, with the involvement of military personnel near 1300 (650 - from the USA, 500 - from Georgia, 150 - from the UK). The Noble Partner 2016 drills also involved the American M1A2 Abrams and the M2 Bradley infantry fighting vehicles, as well as the equipment of the Georgian armed forces - T-72 tanks and the BMP-2 infantry fighting vehicles.
Since 2015, a joint training center has been operating at the Vaziani military base near Tbilisi to work out the combat engagement of the military of Georgia and NATO. Here, with the 2011 of the year, the Agile Spirit ("Agile Spirit") summer command and staff exercises are also held annually with the participation of allied member states. However, the first official unit of the NATO Response Force appeared in Georgia only after the end of last year's Noble Partner-2016 exercise. The rapid reaction force, which the Georgian leadership has been dreaming of for more than two years, is the multinational part of NATO formed in 2002.
In 2015, the alliance announced plans to create command centers for rapid reaction forces in six countries of Eastern Europe - in Estonia, Latvia, Lithuania, Romania, Poland and Bulgaria. Now Georgia has appeared in the list (perhaps, the de facto command post has already been created here).