According to the portal
navyrecognition.com
at the military base of the South
fleet
Chinese Navy hosted the ceremony of adopting the 34th Type 056 warship.
The new corvette was named Hanzhong (tail number - 520) and became the 34 ship built as part of the Type 056 / Type 056A project (Jiangdao type). Type 056 and Type 056A corvettes are ships of the same type, the second modification is equipped with a towed sonar, which increases the effectiveness of anti-submarine warfare.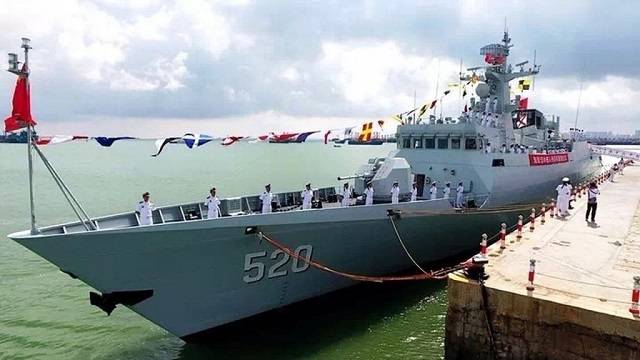 Hanzhong - this is the fourth corvette, adopted by the Chinese Navy this year. The ship was part of the Southern Fleet and will be based in the city of Beihai. Despite the relatively small size (length - 89 m, displacement - 1300 – 1500 t), each of the Jiangdao type corvettes carries powerful weapons: four YJ-83 medium-range anti-ship cruise missiles (defeat radius - up to 160 km); Short-range anti-aircraft missile launcher HQ-10 (ammunition - missiles 24); two triple-barreled torpedo tubes of caliber 324 mm, as well as an 76-mm AK-176 cannon and two 30-mm automatic cannons. At the stern of each of the ships is a helipad for Harbin Z-9 (Chinese licensed copy of the French helicopter Aérospatiale Dauphin), reports "Warspot".
Jiangdao type ships are designed using low-radar visibility technology. At present, 12 corvettes of the project Type 056 / Type 056A are at various stages of construction. According to unofficial information, the Chinese Navy plans to adopt 50 – 70 corvettes of the Jiangdao type. Shipbuilding is being conducted simultaneously in four shipbuilding enterprises: Hudong-Zhonghua in Shanghai, Huangpu Shipyard in Guangzhou, Liaonan Shipyard in Dalian and Wuchang Shipyard in Wuhan. New corvettes should gradually replace the existing patrol and patrol ships of obsolete projects Type 37 and Type 51.