As the
press office
Russian Space Systems (RCS, part of Roscosmos State Corporation) specifically for Military Survey, the holding has developed equipment for monitoring systems of the fifth-generation Russian fighter T-50 based on technologies used in rocket and space technology. The latest intelligent sensors and monitoring systems are designed to control the release of the landing gear and hydraulic system of the aircraft.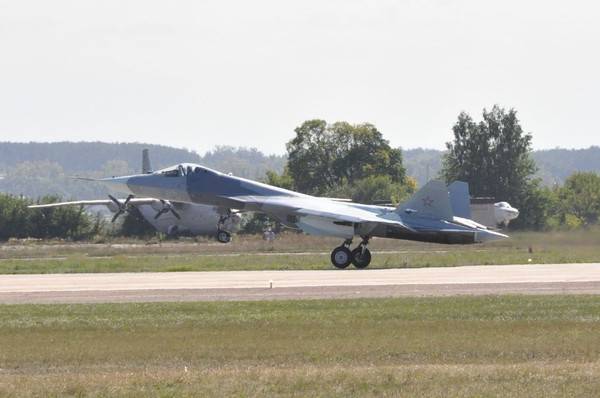 Advanced
aviation
The T-50 complex received all the best practices of the NIIFI specialists, who have vast experience in space and aviation instrument engineering. Particularly stringent requirements are applied to devices used in these industries in terms of ensuring trouble-free operation and stability of metrological characteristics. The intelligent diagnostic and control systems of this aircraft fully comply with these requirements and are the most advanced of the existing ones.
- said Acting General Director of JSC "Research Institute of Physical Measurements" (NIIFI, part of the RKS) Andrei Nikolaev
At MAKS-2017, RKS holding will present a chassis parameters monitoring system. It provides control of the pressure of the shock absorber chambers and the stroke values ​​of the shock absorbers of the front and main landing gear of the T-50 fighter, as well as issuing one-time signals to the onboard electronic equipment of the aircraft during the compression of the front and main landing gear and one-time signals by their position. The main elements of the system are digital programmable sensors of physical quantities. They have high resistance to external destabilizing factors, primarily to temperature and vibration.
Another development of the RCS holding specialists for the promising T-50 aviation complex is a system for measuring temperatures and controlling wheel cooling. It provides control of the temperature of the brake wheels of the landing gear. On the basis of the data received by this system, control commands of signals are generated for switching on and off the brake cooling fan. In addition, this system can signal the unavailability of re-departure, overheating and the inadmissibility of disconnecting the power supply to the wheel cooling fans. It can operate in temperatures ranging from -60 to + 300 degrees Celsius.