Today marks three years since the sad event that occurred in the sky over the Donbas. We are talking about the crash of a Malaysian airliner, performing a flight from Amsterdam to Kuala Lumpur 17 July 2014. The airliner was shot down, killing 298 people, including 15 crew members.
Three years have passed since the crash, and almost the same continues the investigation carried out by the so-called "Netherlands commission". Moreover, the investigation is being conducted against the background of the fact that local residents still find fragments of an airliner with registration number MH17 in the fields near Hrabovo. And the very "display" (reconstruction) of the aircraft from its individual fragments in the Netherlands was carried out at best by 50%.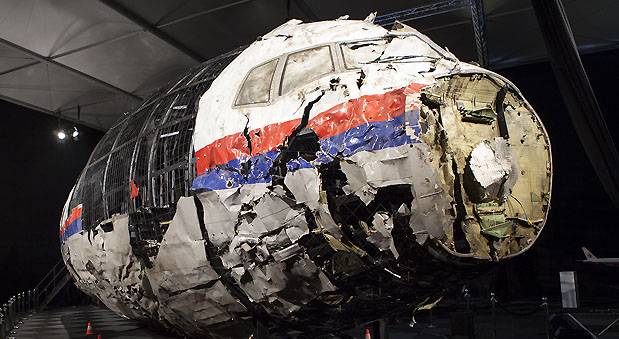 Recall that for several days after the crash of a passenger plane in the Donetsk region, Ukrainian artillery struck at its crash site, effectively preventing the investigation team and international experts from working. As a result, parts of the aircraft, as well as the bodies of the dead passengers, received additional damage from the fragments of shells and mines used by the Armed Forces of Ukraine, which led not only to delaying the investigation, but also actually to trying to cover the tracks.
The Russian manufacturer of air defense systems during this time carried out full-scale tests of the impact of the Buk system missile on a passenger plane and presented accurate data that a strike on an aircraft could be inflicted from the area of ​​deployment of air defense systems of the Ukrainian armed forces. The Dutch experts decided to completely ignore the data obtained during the experiments, which in itself raises many questions.
Also unanswered are questions addressed to the Ukrainian side immediately after the crash. In particular:
Why there is no data of interrogation of the Dnepropetrovsk dispatchers?
Where is the transcript data of the flight recorders?
Why was the plane launched above the epicenter of fierce fighting by the mentioned Dnepropetrovsk controllers?
Where is the data on movements by July 17, 2017 of Ukrainian Buk and Ukrainian air defense systems aviation?
Against this background, in Ukraine and in the West they continue to talk about the need to create a tribunal, which will be carried out according to the laws of the Netherlands. So maybe first the answers to the questions posed, and then the talk about the tribunal? Although this will clearly violate the concept exploited by the West, according to which the main thing is to appoint the perpetrators, and then adjust the pseudo-evidence base with crumbling arguments.