In Lithuania, the guardians of de-communization and de-Sovietization raised a real hysteric over the appearance of "improper ice-cream" on the shelves of Lithuanian stores. The level of obscurantism in the Baltic countries has reached such a level that even the name of a product loved by many causes hot debate. We are talking about ice cream, whose name sounds like "Soviet ice cream".
With this name, the manufacturer was clearly going to draw the attention of customers to the product by reference to the Soviet quality of ice cream. However, now, as it turns out, ice cream has received attention from some Lithuanian officials, who saw the anti-Litovian subtext in the name of the dairy product.
While in the Union of Greens and Peasants party, commenting on the "wrong" ice cream, they say that more important problems need to be solved in the country, then in the Movement Party of Liberals of the Republic of Lithuania and conservative parties have declared "obvious pro-Russian propaganda".
Informational portal
LRT.lt
reports that a representative of the company producing "Soviet ice cream", said about getting ice cream with the same name on the shelves "by chance".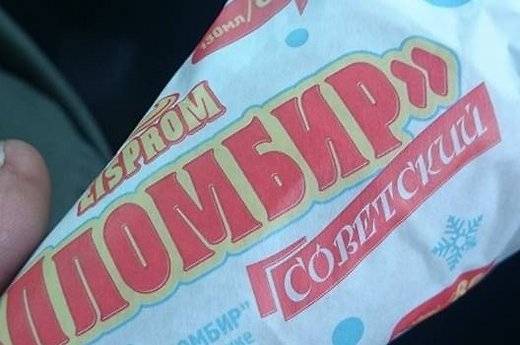 From the manufacturer's comment:
Ice cream was intended for export.
I wonder where? To Latvia and Estonia? ..
Manufacturer added:
In fact, ice cream is bought, and there are buyers, which name is suitable.
Separate Lithuanian parliamentarians, meanwhile, announced that ice cream with such a name "reminds residents of the country of the occupation of Lithuania's 50 years", and demanded to remove the ice cream from the sale. Incidentally, by the way, sausages with the same name - "Soviet" were removed from production and sales in Lithuania.