Turkish President Recep Erdogan made a speech actually on the eve of the anniversary of the attempted coup in the country. The attempt, as is well known, was suppressed, and, as it turned out later, it was not without informational assistance from Russian intelligence agencies that had warned Erdogan about the danger.
During the speech, the Turkish president said that the repressed insurrection of the "enemies of Turkey" showed that the people in the country are one. Information Agency
Anadolu
quotes Erdogan:
Confidence in their abilities and courage, which a century ago allowed to win at Canakkale, ensured success in the struggle for independence. 15 July events are a new victory at Canakkale, Dumplupinar, Sakarya.
Erdogan said that he would continue to fight with representatives of the FETÖ organization (the organization of the preacher Fethullah Gulen, whom Ankara calls the ideological inspirer of the coup attempt). From the statement of the President of Turkey:
Do not forget and do not let forget the betrayal of those who participated in the attempted coup, directed the coup, as well as the accomplices of the terrorists. Does the West call on Ankara to present documentary evidence of the crimes of the coup? What more proof do you need? Killed 250 Turkish citizens, 2193 injured. What documents are you talking about?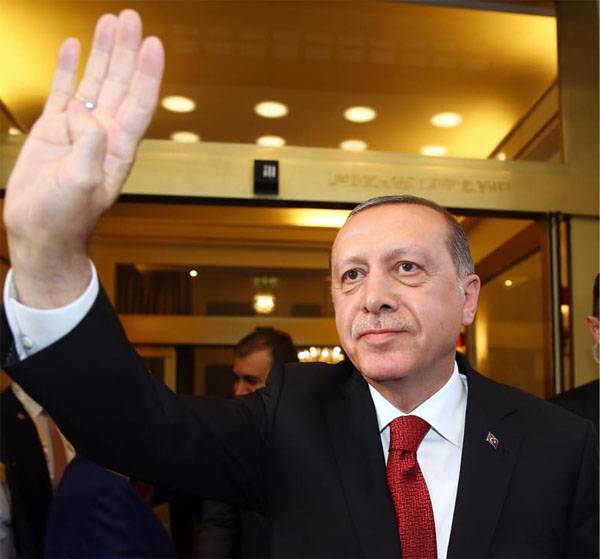 Recall that Fethullah Gulen lives in the United States, and the US authorities are clearly not going to give out Gulen to Ankara, despite all the requests of the Turkish leadership. They were not going to extradite to Obama, they are not going to extradite to Trump too.
Erdogan's further statements by his opponents were regarded as a call for expansion.
Turkish President:
In the last 200 years we are retreating. Turkey must move forward (...) If the enemies of Turkey do not leave us alone even within the current borders of the country, then we must to chart new lines.