Holding "Helicopters of Russia" (included in Rostec) at the MAKS-2017 air show will present for the first time a modernized military transport helicopter Mi-171Ш-ВН designed to support the actions of special forces in carrying out anti-terrorism missions, reports
TASS
message of the press service of the holding
Mi-171Sh-VN is the latest modification of the military transport helicopter Mi-8 / 17. The updated machine is ready for delivery to potential customers, its production is deployed at the Ulan-Ude Aviation Plant
- said the company.
The technical shape of the Mi-171S-VN helicopter was formed taking into account the experience of combat use of helicopters, including in Syria.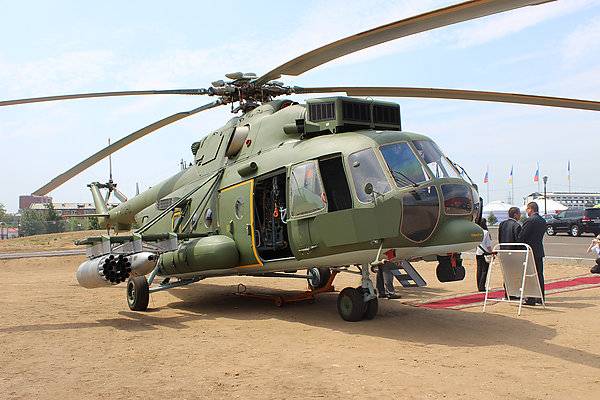 archive photo: Mi-171Sh
The Mi-171Sh-VN helicopter is equipped with powerful engines with improved altitude-climatic characteristics and a new carrier system. The machine is equipped with composite rotor blades with a new profile and an X-shaped tail rotor. Thanks to these innovations, the cruising and maximum speed of the helicopter are increased to 260 and 280 km / h, respectively, and its maximum take-off weight - to 13 500 kg.
The helicopter is equipped with a new composition of flight-navigation equipment. At the same time, to increase combat survivability, the combination of a "glass cockpit" and reliable analogue instruments is applied. In addition, the machine is equipped with the "President-C" defense complex, which automatically detects the launching of missiles by helicopter and implements interference to the heads of their guidance and the release of false thermal targets.
To protect personnel, the crew and cargo compartment floors are completely covered with removable lightweight Kevlar armor. Also, Kevlar armor is installed along the left and right sides to the level of the portholes. In order to increase the survival rate of personnel in the event of a "hard landing" of a helicopter, installation of energy absorbing amphibious seats is provided.
The Mi-171Sh-VN helicopter has a new weapon set. The main feature was the fact that, along with small arms and guns, unguided rockets and bombs of various calibers, it is equipped with a complex of guided missile weapons with a sight-sight system. In the openings of the left and right doors are two machine guns caliber 12,7 mm. Two special machine guns of the same caliber are mounted on special suspension farms.