More than 150 product samples will be presented by Almaz-Antey concern at the MAKS-2017 air show, which will be held in July Xukhm-Xnumx near Zhukovsky, reports
TASS
.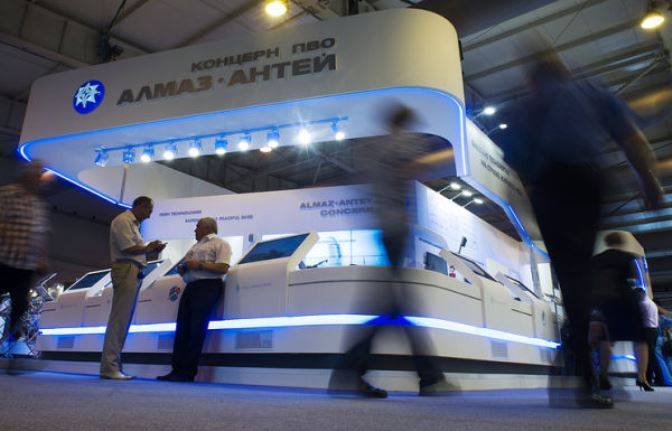 "At the salon sites will be presented more than 150 samples of military, civilian and dual-use products produced by the concern's subsidiaries," the concern's release says.
The company will present, in particular, the following in-kind samples: "Tor-M2TT, the latest arctic anti-aircraft missile system (ZRK), Triumph's C-400 air defense missile system (ZRS) launcher, Buk-M2E self-propelled fire system "with a simulator in a container version, anti-aircraft guided missiles to the ZRMS C-400" Triumph ", the air defense system" Tor-M2E ", etc.".
According to the information, "in the form of models and posters on the concern's booth, it will present the Triumph C-400" Triumph ", C-300PMU2" Favorite "," Antey-2500, Aircraft Systems of the Tor "and" Buk ", Osa-AKM1, and ЗРК sea-based "Rif-M", "Shtil-1", "Blade", radar stations "Sky-SVU", "Sky-UE", "Caste-2Е2", "Fara-BP", container station of active interference ICP- 418K, Omul radio-resistance system ".
More than 20 of subsidiary companies of the concern will exhibit their products.
It is reported that "in a separate thematic area," Almaz-Antey "will place products of civil and dual use. This, in particular, is an all-mode digital surveillance station for air traffic control - a monopulse secondary radar Aurora-2, and other samples. "
As the main manufacturer and system integrator of equipment for the Unified Air Traffic Management System, Concern VKO "Almaz-Antey" will pay special attention to the presentation of advanced developments in the field of radio engineering support of flights and air navigation services. They will be represented by a separate segment,
quoted by the press service of the Deputy Director General for products for the air navigation system and dual-use products of the concern Dmitry Savitsky.
According to him, many of the products demonstrated have been successfully tested and are used in air traffic control centers in Russia and abroad.