In May, President Vladimir Putin ordered to postpone the delivery of the nuclear-powered icebreaker LC-60Ya Arktika from 2017 to 2019. In addition, he demanded to take personnel and organizational and management decisions in connection with the failure of the state contract, reports
Kommersant
.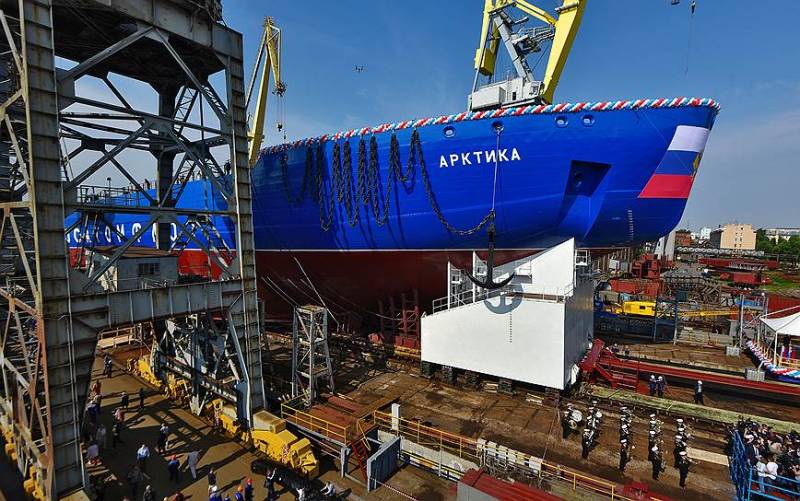 In addition, the progress of the project will be checked by the Prosecutor General's Office, the FSB and the Accounts Chamber.
"On the construction of the" Arctic "FSUE" Atomflot "(controlled by Rosatom) and LLC" Baltic Shipyard - Shipbuilding "(BZS, part of USK) agreed in 2012 year. Money for the icebreaker - 37 billion rubles. - allocated a budget. In 2014, the contract was signed for two more icebreakers of the series, Siberia and Ural, for 84,4 billion rubles. The Arctic was supposed to be delivered at the end of 2017 of the year, Siberia at the end of 2019 of the year, Ural at the end of 2020 of the year, the article says.
As a source at USC told the newspaper, "the request of the BZS to Atomflot to postpone the delivery of the Arctic to the middle of 2019 of the year caused a strong reaction: the FSUE transferred it to Rosatom, to the government, and then to the Security Council." As a result, the appeal reached Vladimir Putin.
The USC also reported that a meeting on the completion dates and the necessary measures would be held soon.
Turbines have become a key problem for the Arctic. "They should have been tested by the Ukrainian Kharkov Turbine Plant, but after 2014, the stand had to be built at CEM. A government source says that there are no serious technical difficulties: the first turbine is being tested at the CEM stand, the second must be tested by October. In the USC, they also complained about personnel problems, a large temporary gap in the implementation of such projects, the loss of competencies, the alteration of the technical project and documentation, "the newspaper writes.
In general, the icebreaker contractors shift the blame in disrupting the deadlines on each other.
According to a government source, "debriefing will affect officials of the USC and Rosatom, who did not inform in advance about the difficulties, putting the White House and the Kremlin in front of the fact that the state contract was disrupted." Interlocutors of the publication in the industry admit that "the search for those responsible for the disruption may be difficult: the contractors for the Arctic were selected at the time when Rosatom was headed by Sergey Kiriyenko, who now holds the position of first deputy head of the presidential administration." "Therefore, it is not worth waiting for high-profile layoffs," one of the interlocutors is convinced.