The Iraqi information portal "Sumariya" reports the representatives of the terrorist group "Islamic State" (prohibited in the Russian Federation) about Abu Bakr al-Baghdadi. As you know, this is a man who was listed as the leader of ISIS (*). The report said that the militants confirmed the death of al-Baghdadi in the Syrian Raqqa area and said they were electing a new leader.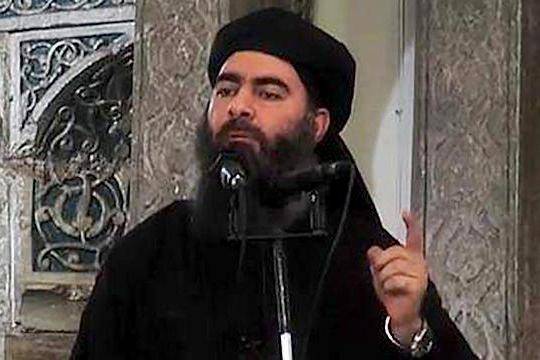 We will remind that earlier the Ministry of Defense of the Russian Federation distributed a message about an airstrike on the base of terrorists in the Raqqi district, where a meeting of the leaders of ISIS was held (*). Then, as a result of the attack, they managed to destroy over 300 Igilovtsy. The Defense Ministry noted that the leader of ISIS could also be among those killed (*). The air raid was produced on 28 May. Over the last time al-Baghdadi did not appear in front of the lenses of video cameras, which made it possible to consider the assumptions of the Russian Defense Ministry valid.
Today we can finally talk about the elimination of the terrorist number XXUMX, which al-Baghdadi considered.
Earlier, representatives of the American coalition repeatedly declared the destruction of al-Baghdadi, but the leader of the group reappeared every time on the propaganda cadres of the Islamic State (*), and the so-called ISIL press service (*) denied its liquidation.
For reference: the real name of Abu Bakr al-Baghdadi - Ibrahim al-Badri. He was the Imam of one of the mosques in Iraq, was sent to an American prison on suspicion of terrorism, but was released from it for unannounced reasons. After this release, ISIS (*) actually began to form.