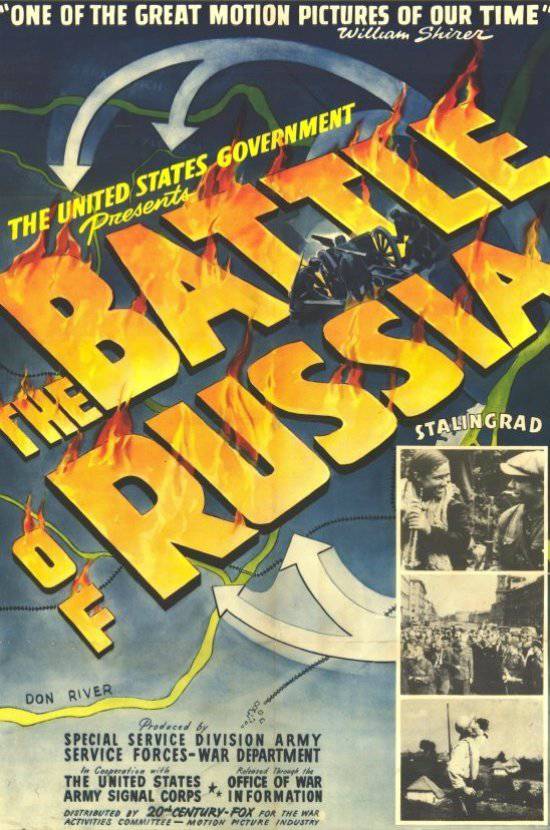 The film was released allegedly in 1943, during the Second World War, filmed by the Office of Special Services of the USA and the Ministry of Communications. This is an openly propaganda, but very delicate copy of film production from that period. In those years, the USA did not so clearly oppose the USSR strategically and politically, we had nothing to divide (I mean Germany and Eastern Europe), and even more so the distance between us was not measured in an hour with a small flight of an intercontinental missile. In the film, this translates into a very friendly, fraternal attitude towards the Russian people and the state as a whole. The film consists of two parts. If you describe it fluently, then at first the Americans talk about the old Russian disputes with the Germans, they even show footage from the "Alexander Nevsky" of Eisenstein and Vasilyev, on the whole without distorting
stories
. The film tells about a great country - the USSR, and it is emphasized a great one: a third of the world bread, so many millions of this, the richest people, and so on. Then a very detailed coverage of the strategic position at the beginning of the invasion of the USSR. It feels the strategic intent of Hitler. Blitzkrieg, his failure, siege, arcs, cauldrons, the German winter-spring failure, forty-second, forty-third ... Throughout the whole movie, the strategies of the warring parties were explained in detail, animated maps are shown, chronicle materials are perfectly mounted, some did not pop up.
Description: PS The film is rare - not mentioned on the Internet. It is dynamically mounted and is of historical interest due to the period of release. And it was released before the opening of the US second front in 1944 year. After all, after the war, the situation has changed and there has never been such friendliness in our direction.
The film was initially intended to be shown by the US military, but after a while it was released in wide distribution. The film tells about the struggle of Russia against its conquerors, including its entire history. The basis of the victory in the fiercest battles of World War II was the strength of the Russian character. Showing materials from archival sources in the USA and the USSR.
IMDB: 7.50
original title: The Battle of Russia
year: 1943
Country: USA
director: Frank Capra, Anatole Litvak
Scenario: Julius J. Epstein, Philip J. Epstein, Robert Heller
producer: Frank Capra
composer: Dmitry Temkin
Installation: William Hornbek
genre: documentary, military, history