TV channel
Sky News Arabia
with reference to the Iraqi military command reports that the Iraqi army announced the complete liberation of Mosul from ISIL (* terrorist group banned in the Russian Federation). Translation of a message of the Ministry of Defense of Iraq leads
RIA News
:
ISIS (*) no longer has a single district in Mosul. The militants have no choice but to surrender. The presence of the IG (*) in Iraq ended forever. The pseudo-state collapsed: the an-Nuri mosque was liberated.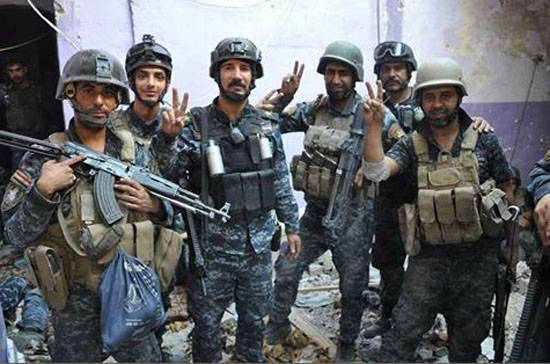 Meanwhile, in social networks, the Iraqi military reported on the ongoing local battles in the city. It is noted that 20 children were released by army special forces in Al-Batul hospital in Al-Shafaa district. Children were held hostage by terrorists for a long time.
The battles take place in three directions at once in the Old Town. This is reported by Iraqi Day Twitter account, which usually publishes the latest information about what happens during the operation in Iraqi Mosul.
The same Twitter account reported that at the beginning of the day 80 thousands of civilians remained hostage to ISIS (*). These are the people who live in areas controlled by igilovtsy in a major Iraqi city. Therefore, talking about the complete liberation of Mosul, according to reports by the Iraqi military, is somewhat premature.