The schismatic UOC of the Kyiv Patriarchate received a kind of proposal from the radicals of the Right Sector (* extremist organization banned in Russia) about the "final solution" of the churches of the UOC of the Moscow Patriarchate. We are talking about the proposal, which was, in fact, made more than a month ago. De facto, an agreement has been concluded that pravoseki will in every way assist in obtaining the UOC KP under the jurisdiction of the property of "opponents" from the UOC MP. Reports about it
RIA News
with reference to a number of Ukrainian sources.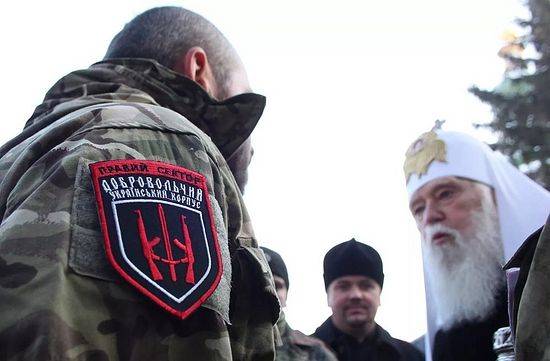 In fact, we are talking about the fact that the UOC-KP in order to increase its influence in Ukraine and to replenish the "assets" churches and territories openly interact with the Nazi formations, whose representatives have their hands in their own compatriots' blood. Recall that under the flags of the "Right Sector" (*) people were killed on the Maidan, burned in the House of Trade Unions in Odessa, shot at children and old people of Donbass. This reveals much in the essence of the so-called "Ukrainian Orthodox Church of the Kiev Patriarchate" and its ideological inspirer Philaret (Denisenko). At the same time pravoseki not used to act for free. And, like any mercenaries, require the part "pressed".
If, in pursuit of property, the "church" does not even stop at the question of the unacceptability of cooperation with extremists, then this is quite in the spirit of the Catholic Church of the era of the Crusades and the Inquisition. And what else can be called beating the parishioners of the churches of the UOC-MP and an attempt to put pressure on the believers with "stick" methods, if not the medieval Inquisition? ..