Israeli media criticized Iran's missile attack on ISI targets in Syria. So site
Walla news
citing an official government source, reported that, according to Israeli intelligence, only one or two of the seven missiles launched by 18 on June 2017 in the evening by Iran towards Syria hit the targets of the Islamic State in a suburb of Damascus.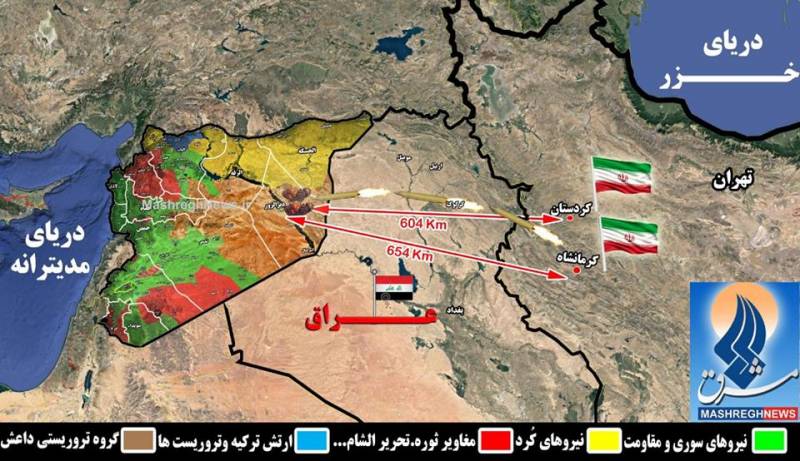 At the same time, the Israeli site
"Mako"
without indicating the source from which the information was obtained, writes that three of the seven missiles fell on the territory of Iraq. The rest fell hundreds of meters from the targets.
However, the Turkish edition
Hurriyet daily
quoted by the IRGC General Ramazan Sharif, who said that, according to Iranian intelligence, all missiles hit targets.
Brigadier General, Commander of the IRGC Air Force Amir-Ali Hadjizade told Iranian state television that the missiles, flying over Iraq, fell in Syria. He noted that this was confirmed by personnel who were transferred to the UAV, located in the area of ​​Dir al-Zor.
We remind you that in the evening of June 18, several medium-range ballistic missiles were launched in the Kermanshah and Kurdistan provinces towards Syria. According to the Iranian agency Fars, the command center "takfiristov", centers for providing terrorists in the area of ​​Dir al-Zor, as well as workshops that assemble cars used for terrorist attacks.
Sources in Jerusalem, to which Walla News refers, believe that the missile attack should have served as a warning and reminder to the countries of the region and to all parties to the conflict in Syria that Tehran is a force to be reckoned with.
Iranian authorities said that the missile attack was a response to the terrorist attack in Tehran, which killed 18 people.
IG * - prohibited in Russia