The American television channel FoxNews (FoxNews), citing sources at the US Air Force Command, reports that the Russian Su-27 fighter "with weapons on board" approached an American radio-electronic reconnaissance aircraft over the Baltic Sea at a distance of no more than two meters. We are talking about the plane RC-135 USAF. Other US media say: "no more than a meter."
The TV channel reported that the "incident" in the sky over the Baltic occurred yesterday (19 June). US military sources say they regard the behavior of the Russian pilot as "dangerous" and "unpredictable." But the very Russian pilot, who was at the helm of the Su-27, does not care what his behavior is thought of in the US Air Force command, as he performed the tasks at the Russian frontiers set by the Russian military command.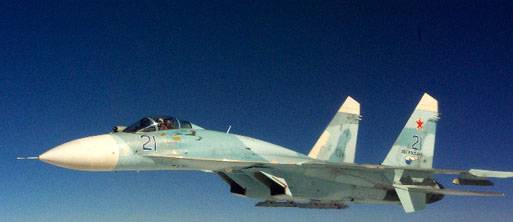 Meanwhile, the American media report that the Pentagon is studying information about "how far from the Kaliningrad region the incident occurred." But first of all, the Pentagon would have to take care of how far the incident occurred from the borders of the United States. And on this occasion, the Pentagon would have to ask another such question: so whose actions on the Baltic should be regarded as dangerous?