The ships of the Russian Navy will conduct this week regular rocket launches in the international waters of the eastern Mediterranean off the coast of Syria. This follows from notices for aviation personnel (NOTAM) and navigation warnings for mariners.
The Russian Navy will conduct exercises (training missile launches) ... from 18 to 30 June
- it is spoken in messages in which concrete coordinates of the area of ​​the exercise are also given, transfers
"Interfax"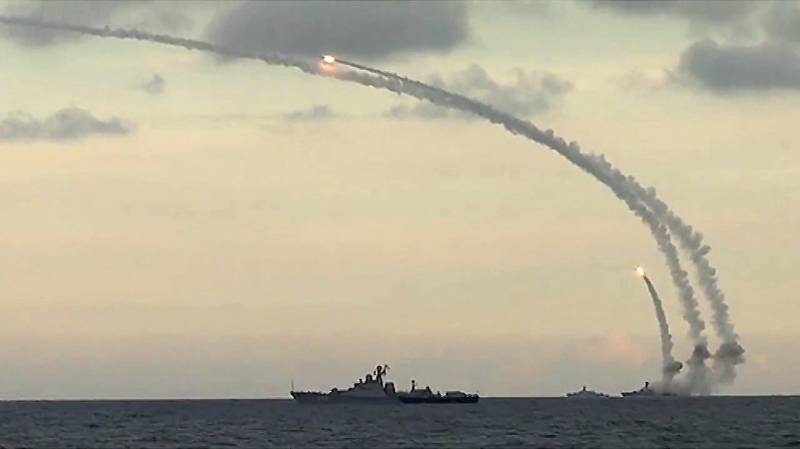 As follows from the notification, missile launches from Russian ships can be carried out on 19, 20, 23, 28 and 30 June in the interval between 08: 00 and 18: 00 in Moscow at the border of the territorial waters of Syria in the international waters of the Mediterranean.
As previously reported, the same area off the coast of Syria was already closed from May 29 to June 4 for rocket launches from Russian Navy ships. On May 31, the Russian frigate Admiral Essen and the submarine Krasnodar from the Mediterranean were launching four Caliber cruise missiles at ISIS terrorists (banned in the Russian Federation) in the Palmyra area.
Currently, the operational connection of the Russian Navy in the Mediterranean has about 10 ships and vessels. In its composition carry out the tasks of two new same-type frigates of the Black Sea
fleet
Admiral Grigorovich and Admiral Essen, as well as the Krasnodar submarine, which are equipped with Caliber cruise missiles. In November 2016, Admiral Grigorovich from the Mediterranean Sea also launched cruise missiles at terrorist targets in Syria.