The current situation in the Donbass indicates that Russia is not abandoning plans to attack Ukraine, says the head of the Ukrainian Ministry of Defense, Stepan Poltorak.
The situation at the front shows that the aggressor - the Russian Federation - does not give up the idea of ​​seizing our country - he said during the graduation ceremony of students of the National University of Defense of Ukraine. I. Chernyakhovsky on Friday in Kiev, reports
"Interfax"
According to the minister, in these circumstances, Ukraine should continue to reform the defense sector and strengthen the army.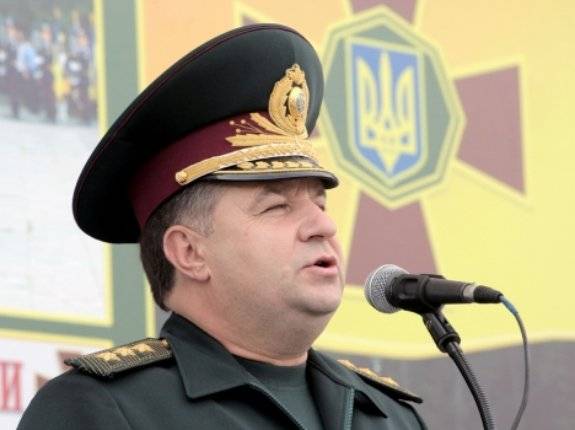 It is on how professionally each of us, receiving knowledge, will act in our positions, depends on how quickly we will reform the MAT. We created new controls, united operational headquarters, MTR, improved highly mobile troops, improved the training system, changed the logistics system.
- said the head of the Ministry of Defense.
According to him, only in 2016, 2,5 thousand units of new and modernized equipment came into service of the APU, 15 thousand units of equipment were repaired.
Poltorak also said that in a year and a half 86 thousands of people had entered the contract service in the Armed Forces of Ukraine.
Over the 2016 year and the beginning of the 2017 of the year, 86 of thousands of servicemen came to the troops under contract, which indicates that the army is becoming professional. Kontraktniki motivated, trained, have combat experience. And it has allowed us today to abandon the mobilization
- said Poltorak
The Minister noted that such a number of contractors also allowed to create a reserve.
We have created a 100-thousandth reserve, which for several days can take up
weapon
. Exercises are held with them every year.
- the minister assured and added that "we must be ready for a change of atmosphere".
As previously reported, Ukraine plans to move to a contract army by 2020 year. By this time, thousands of people are planning to sign a contract with 250.
At the moment, the Ministry of Defense of Ukraine declares that more than 150 thousand people already serve in the Armed Forces of Ukraine on the contract, of whom 47,5 thousand are officers.