The Ministry of Defense checks through various channels information about the possible destruction of the leader of the banned Islamic State group * Ibrahim Abu Bakr al-Baghdadi as a result of a Russian strike
aviation
, transmits
RIA News
with reference to the message MO RF
High-ranking militants who were part of the "military council" of the IG *, and about 330 terrorists, became victims of this strike of Russian aviation.
According to the Defense Ministry, among the liquidated terrorists are the "emir" Raqqi Abu al-Haji al-Mysri, Ibrahim An-Naef al-Haj, who controlled the area from Raqqi to Es-Sukhne, and the "security chief" IG Suleiman Al-Shauah.
Information to the meeting of the leaders of the militants of the Ministry of Defense received in late May. During the data check, we managed to find out that the purpose of the meeting was to plan the routes for the withdrawal of militants from Raqqa through the so-called "southern corridor".
Aviation struck 28 at night in May, from 00.35 to 00.45 Moscow time, after the drones confirmed the data on the place and time of the meeting. At the same time, the Ministry of Defense had warned the American side about the strike.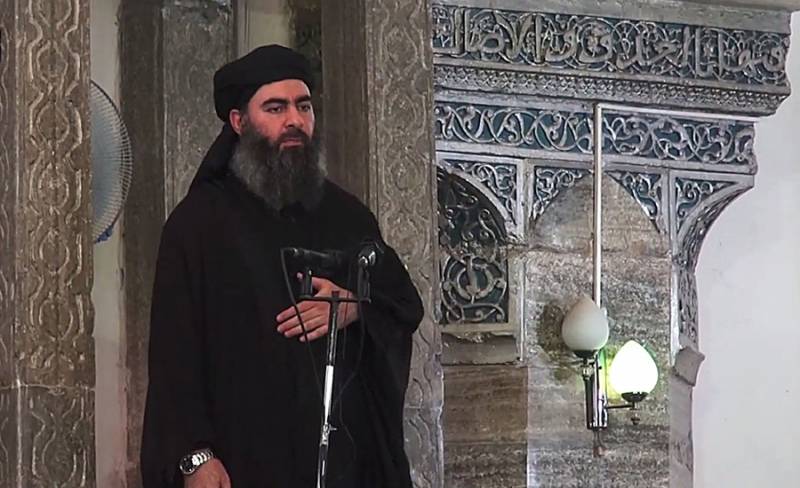 Al-Baghdadi, his real name - Ibrahim Awad Ibrahim al-Badri, first appeared in public in July 2014, when from a mosque in the captured IG city of Mosul proclaimed the creation of an "Islamic Caliphate" in the Middle East. Since then, the media have repeatedly published information about its liquidation, but it has not been confirmed.
American and Iraqi intelligence services suggested that the leader of the IG could be hiding in the area of ​​the El-Baad settlement near the Syrian border. June's Daily Mail 11, citing Syrian television, reported that al-Baghdadi was allegedly eliminated as a result of the Raqqa air strike. At the same time, the Amaq site associated with Islamists has not yet published any confirmation of these messages.
Islamic state * (IG *) is a terrorist group banned in Russia