A video appears on the web, on the frames of which one can see how representatives and representatives of the so-called irreconcilable opposition 12 June were actually detained. In particular, ultra-liberal publications and blogs made a big fuss about the photo with the detention of "activist" Maria Baronova, the head of the Moscow branch of Open Russia.
Here is the sensational photograph of the "bloody gebni waving up the hands of Baronova":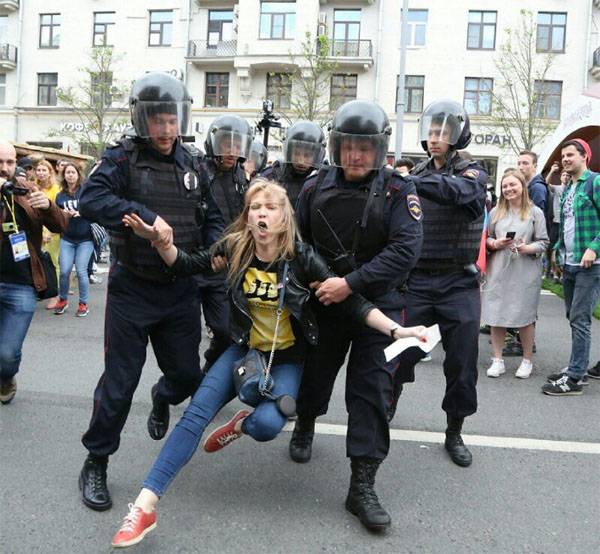 The strangeness attracted attention: if the people in the photo on the left are tense and remove the "police brutality" that is happening, then the people on the right barely restrain from laughter. What's the matter? Light on the detention of "activists" sheds this video, which appeared on YouTube:
The voiceover ironically comments on the behavior of Mrs. Baronova like this (Igor K channel):
Take me!..
And Baronov, to whom the police first do not pay any attention, is eventually quietly taken out of the crowd. The fact that the "irreconcilables" were built from this was even demonstrated on foreign channels, only the main thing was "forgotten" - Mrs. Baronova did everything to be taken to the paddy wagon. Note - just taken under the arms, without applying brute force. Would Mrs. Baronova have a chance to remain with an unbroken face if it were in a democratic Britain or a more democratic United States?