Taganrog
aviation
scientific and technical complex G.M.Berieva at the end of June will give the Russian Ministry of Emergencies the second Be-200ES amphibious aircraft this year (serial number 304),
Interfax-AVN
Chief Designer, Program Manager TANTK Vadim Zdanevich.
The first production amphibious aircraft, the Be-200HS, produced by TANTK them. Beriev for EMERCOM of the Russian Federation (303 serial number) was delivered to the customer in January of the current year. By the end of this month, plans to transfer the second aircraft
- Said the source agency.
According to him, the entire production program of 2017 of the year provides for the construction of four Be-200ES aircraft in the interests of the Russian Emergencies Ministry.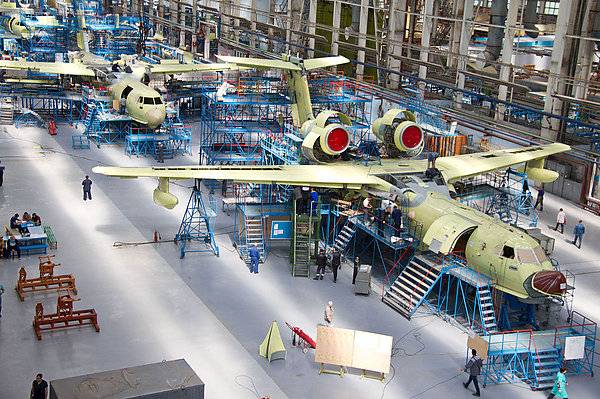 Assembling the Be-200ES aircraft
Currently, the third and fourth Be-200ES aircraft are in production. Their transfer to the customer is expected in the third and fourth quarters of this year.
- said V.Zdanevich.
He noted that with the implementation of the state order for the supply of Be-200 for the Ministry of Emergency Situations there was some delay due to the need to develop and introduce into mass production of the new for TANTK them. Berium aircraft.
The construction of the Be-200ES situation in Taganrog is carried out as part of the state contract concluded in May of 2011 for the supply of six new Be-200ES situations for the Russian Ministry of Emergency Situations of the Taganrog assembly
- reminded V.Zdanevich.
He reported that at the present time TANTK them. Beriev performs the state order for the supply of X-NUMX aircraft Be-12 for the Emergency Situations Ministry and the Ministry of Defense.
The maximum take-off mass of the Be-200ЧС aircraft is 42 t, the maximum payload mass (water mass taken in tanks) is 12 t. Flight speed is up to 710 km / h. The maximum flight range is 3600 km. Seaworthiness is the maximum wave height to 1,2 m (3 points). Aircraft calendar resource - 30 years. Patrol speed in search and rescue on water - 300-560 km / h.
The aircraft is capable of transporting up to 50 people with accommodation on side folding seats or 30 people on stretchers.
The power plant of the Be-200ChS aircraft consists of two D-436TP engines, each with a take-off 7,5.