In the continuation of the "Direct Line", V. Putin answered questions related to Western sanctions against Russia. In particular, he said that Russia always lived under sanctions, they were introduced when they felt the competition.
When our partners in the world felt in the face of Russia a serious competitor, so under various pretexts some restrictions were imposed. It has been throughout our
stories
, I don't even talk about the Soviet era, but it was before. There is nothing surprising
He said during the straight line.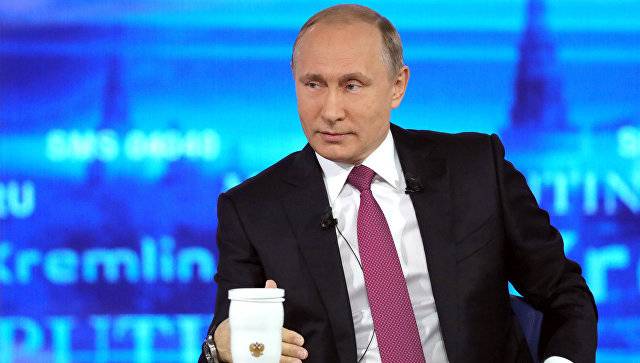 The US Senate is trying to expand sanctions against Russia from scratch, the president added.
Now we know that the US Senate has again raised a bill to toughen these sanctions. Speaking of which, why? After all, nothing extraordinary happens. In this connection, they began to talk about these sanctions from scratch?
- Putin said.
This is evidence of the ongoing domestic political struggle in the States. But nevertheless, it happens, and I think, from scratch
- stressed the president.
The US Senate on Wednesday overwhelmingly approved an amendment to expand anti-Russian sanctions. This amendment is included in the sanctions bill against Iran.
The proposed sanctions against Russia imply a reduction in the maximum term of market financing of Russian banks under sanctions to 14 days, and sub-authorized companies in the oil and gas sector to 30 days. In addition, within 180 days after the introduction of the amendments, the head of the US Treasury must submit a report to Congress describing the possible consequences of extending sanctions to Russia's sovereign debt.
At the same time, Russia lost 50-52 billion dollars from sanctions, and those who entered 100 billion dollars
- Putin said -
The fall in GDP due to sanctions was about 1 percent
When asked about the lifting of our retaliatory sanctions against Western countries, V.V. Putin replied that if the "partners" would lift the sanctions, then Russia will begin to remove: -
If our partners start lifting sanctions, Russia will also do it, otherwise it will face problems with the WTO
Speaking about how the sanctions affected Russia, Putin noted that thanks to them, production in a number of complex industries actually increased in Russia.
We have restored competence in electronics, in aircraft manufacturing, in the missile area, in pharmaceuticals, we now have good processes in heavy engineering
- noted the president.
And I am not talking about agriculture now. We all know, the growth is somewhere around 3% (agricultural production - approx. VO), Russia has become the number one country, the leader in the export of cereals, wheat. We have significantly reduced purchases of imports, our own production of, say, pork meat, poultry meat covers almost completely our needs.
- He said, noting that Russia is looking for markets for them, in particular, to China.