The air strikes inflicted by the US-led coalition in the Syrian city of Raqqah led to the deaths of hundreds of civilians and left 160 thousands of city residents homeless, reports The New York Times, citing UN officials. According to some data, since the beginning of the American operation during the air strikes, more than 3 thousand civilians in Syria and Iraq have died.
"Sight"
.
Air strikes became more frequent when the American-backed militia, known as the "Syrian Democratic Forces", recently launched an assault on Raqqa, the "capital" of the IG, held by the Islamists since 2014,
- notes The New York Times
In particular, we note that the intensification of airstrikes (which "paved the way" for SDS moving toward Raqqah) led not only to the overwhelming death of a peaceful life, but also to the fact that 160 thousand civilians left their homes
- Said Paulo Sergio Pinheiro, a Brazilian diplomat who heads the UN team of experts.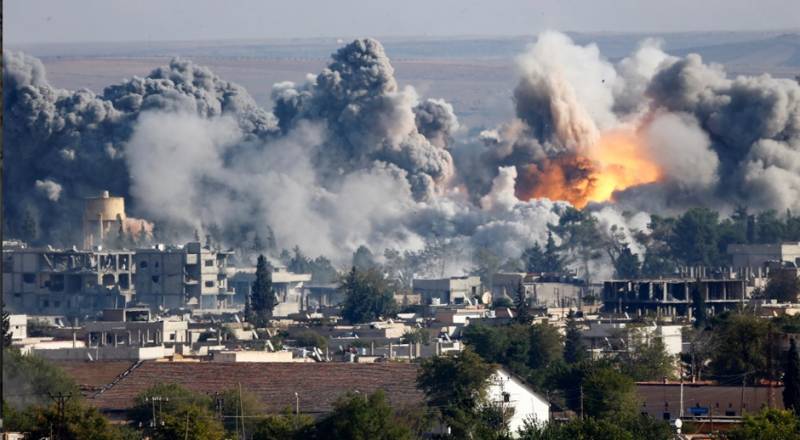 Since 21 March as a result of air strikes, 300 civilians were killed, a member of the commission Karen Abuzaid told reporters in Geneva. She specified that this number includes 200 civilians killed as a result of a blow to the school building in the city of El Mansur.
The attack on Al-Mansuru occurred on the day when a US-led coalition launched 19 attacks on targets near Raqqa and a week after 49 people died (then coalition aircraft attacked Al-Gina village in western Aleppo province). In the latter case, instead of the building where the al-Qaeda militia meeting took place, the mosque was hit — which the Pentagon later acknowledged.
The Airwars portal, cited by the New York Times, reports: from the beginning of the US operation and its coalition partners against ISIS * (August 2014 of the year) to March 2017, at least 3100 civilians were killed in air strikes in Iraq and Syria. This is more than eight times more than the number of casualties recognized by the US military (they report 352 dead).
The urgent need to combat terrorism should not, however, be at the expense of civilians who inevitably are in areas where ISIL is present.
- stressed Paulo Pinheiro.
The New York Times notes: the return of Raqqa "will be a serious step in the quest to eliminate IS domination in Syrian territory, and in a clash between the government of President Bashar Assad (supported by Russia and Iran) and the rebel forces that support the United States and the Arab powers in the region. This collision will determine the future of Syria, concludes the publication.