The representative of the Emergency Committee of the Ministry of Internal Affairs of the Republic of Kazakhstan, Ruslan Imankulov, reported that the launch from the Baikonur cosmodrome of the Russian Soyuz-2.1 launch vehicle with the Progress MS-06 spacecraft resulted in a tragic incident. According to Imankulov, a man died. Stated that during the launch of the separating part of the launch vehicle when falling to the ground and eventually became the cause of death of a person near Zhezkazgan.
Some details of the incident are reported by the press service of the Kazkosmos company, which is responsible, along with Roscosmos, for launches from the Baikonur cosmodrome. At the same time, the Kazakh side places the responsibility on Russian colleagues.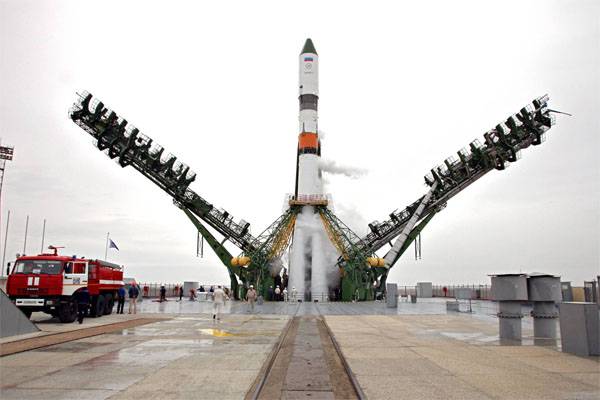 Портал
"Nur.kz"
Quotes Galymzhan Danbayev, deputy chairman of the Aerospace Committee of the Ministry of Defense and Aerospace Industry of Kazakhstan:
Responsibility for the work on the separating parts of the launch vehicle is borne by the Russian enterprise NPO Mashinostroeniya, 1 the center of operation of the drop areas is deployed in Zhezkazgan.
A person died in the steppe as a result of burns. This is an employee of NPO Mashinostroyenia, who participated in extinguishing a fire. According to representatives of the GS Committee of the Ministry of Internal Affairs of Kazakhstan and employees of Kazkosmos, a fire broke out as a result of falling into the steppe of hot side parts of the Soyuz-2.1. The fire quickly spread a strong wind. The deceased was the driver of the car "KAMAZ".
Roscosmos comment:
After successfully launching 14 June 2017 of the Soyuz 2-1 launch vehicle with the Progress MS-06 transport cargo vehicle under the ISS program, the RN side units fell in a predetermined fall area at a distance of about 50 kilometers west of Zhezkazgan (The Republic of Kazakhstan). Ground search groups in cooperation with the Ministry of Emergency Situations of the Republic of Kazakhstan immediately began work.

Due to adverse weather conditions in the area of ​​falling side blocks (+ 34 degrees, wind with gusts up to 15 m / s), a steppe fire occurred in deserted areas. There is no threat to the population, the fire is localized.

According to the available information, the driver of a KAMAZ vehicle, an employee of AO NPO Mashinostroyenia, died in extinguishing a fire. AO NPO Mashinostroeniya (not part of the State Corporation ROSKOSMOS) is engaged in ensuring the operation of areas of fall. Car KAMAZ flame covered as a result of a particularly strong gust of wind.

ROSKOSMOS expresses condolences to the relatives and friends of the deceased.
In this regard, there are questions about the need to solve the problems of fire safety starts from the Vostochny cosmodrome, surrounded by taiga.