The Ukrainian group for studying public opinion "Rating" presented the results of a survey of Ukrainian citizens on the subject of events in the country. The results of those who are at the helm of Ukraine, should cause only positive emotions, because, coming to power, these were the goals set before the Kiev puppets. And the survey results are as follows:
85% of the polled citizens of Ukraine believe that the country is in a state of chaos. At the same time 75% believes that Ukraine is moving along the path of collapse.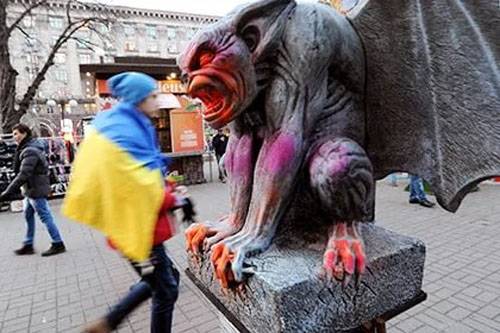 Only 17% of Ukrainian citizens believe that in such a situation Ukraine can expect consolidation.
It is noteworthy that the voices are almost equally divided between those who believe that the country needs a new Maidan and those who oppose the revolutionary scenarios: 41% against 47%, with the remaining 12% undecided. An important remark from Ukrainian sociologists: the greatest desire to re-enter the protest actions is expressed by residents of the western regions of Ukraine - those who support the "Self-help" party or the Radical party of Oleg Lyashko. There is a high percentage of protest sentiments among supporters of the political movement "For Life" of Vadim Rabinovich.
Another important detail: 65% of the polled citizens of Ukraine stated that the causes of chaos and low economic efficiency in the country are the failure of the government and its total corruption.
The political preferences of Ukrainians who participated in the survey are as follows (quote
"Rating"
):
If the presidential elections in Ukraine were to take place next Sunday, then 15,2% of those who intend to take part in the elections and decided on their preferences are ready to vote for Yulia Tymoshenko. 11,6% would vote for P. Poroshenko, O. Lyashko and U. Boyko - by 8,5%, V. Rabinovich - 7,8%, A. Gritsenko - 7,2%, A. Sadovogo - 6, 6%, O. Tyagniboka - 3,9 %, S.Vakarchuk - 3,8%, D.Yarosh - 2,5%, V.Groysman - 2,4%. The rating of other candidates is less than 2%.