In Ukraine, information is being exaggerated that Poroshenko will meet with Trump next week. Official Kiev does not comment on this information, but Ukrainian political scientists gave vent to emotions and discuss the possible format and semantic load of the meeting. If some believe that Trump's readiness to meet with the President of Ukraine is a fake, others are confident that Trump really wants to say a few words to Poroshenko.
An interesting opinion is expressed by political analyst Dmitry Korneychuk, who writes on his page in
Facebook
following:
"There was information that Poroshenko will visit Washington next week to Trump.
Option 1 - this is another fake, launched by Bankova, to show some kind of mythical support for Poroshenko Trump. Especially now, when TATS (Tymoshenko, Avakov, Turchinov, Sadovy, note "IN") began to sway the throne under a weak president, which the West does not cover.
Option 2 - Washington Poroshenko called "on the carpet." And Trump is ready to clearly deliver Poroshenko an ultimatum on the implementation of the Minsk agreements. In other words, Trump is going to demonstrate to Putin that he is starting to fulfill his part of the "Big Deal" in Ukraine-Syria. And it takes control of the Kiev puppet, which got out of hand during the change of power in Washington. "
In the Ukrainian segment of social networks, there is also a version that, like the Trump-Klimkin meeting, the Trump-Poroshenko meeting will cost the Ukrainian treasury several hundred thousand dollars - only for photos in the media and Poroshenko's loud statements seeking PR literally in everything.
And this statement of Poroshenko, which he made a few hours ago:
"I entrusted to develop a draft law" On the reintegration of the occupied territories of the Donbass of Ukraine ", providing for a number of measures to return the occupied territories of Ukraine. It is based on the conditions set forth in the Minsk agreements.
Along with the preparation of the bill, political and diplomatic efforts will continue, which have already yielded results, in particular sanctions against the aggressor country. "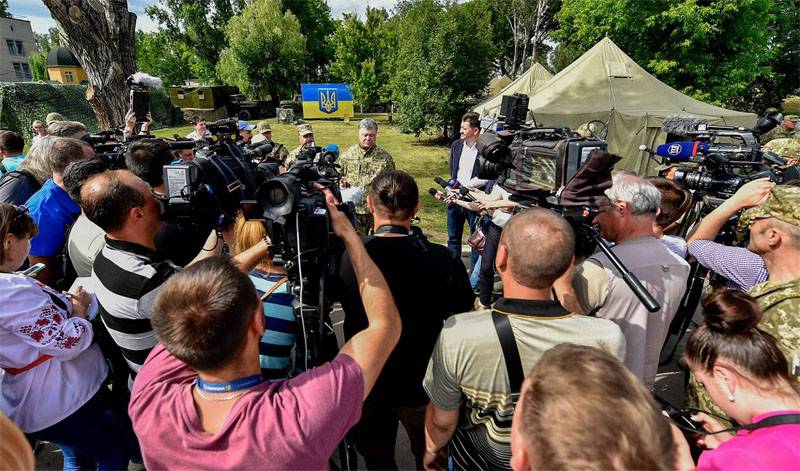 Poroshenko's return to the subject of the Minsk agreements can hardly be considered an accident.