According to the information of the online newspaper "
News
", The headquarters of the Navy reported on the launch in Russia of the mass production of supercapacitors, which are designed to significantly accelerate the demagnetization of warships, as well as distort and mask their electromagnetic portrait. Tests of the newest degaussing complex were carried out during the corresponding work on the large landing ship "Ivan Gren".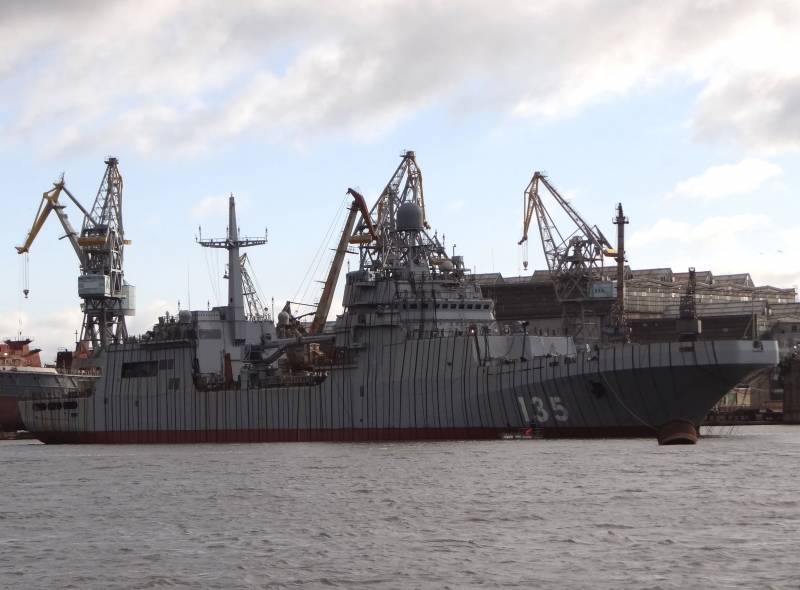 BDK "Ivan Gren" project 11711 on demagnetization at JSC "PSZ" Yantar "
As indicated, the standard energy storage devices used in the Navy, have high specific power, but at the same time have low specific energy parameters. Demagnetization systems based on them are characterized by a large mass, and therefore can only be installed on special demagnetization vessels. Supercapacitors are compact in size, comparable to a conventional car battery. Thanks to them, the demagnetization process can be made continuous by integrating the device into the onboard equipment.
The developer of the product is the company TEEMP. It has a power density of 100 kW / kg and is able to work even at extreme temperatures. A supercapacitor has a million number of charge – discharge cycles, which allows it to be integrated into any on-board equipment of a car, airplane or ship.
According to Alexander Mozgovoy, an expert in the field of naval armaments, the ship's standard demagnetization procedures are long and laborious. Currently, they are carried out exclusively on the territory of naval bases.
The ship has not only its own unique acoustic portrait, but also an electromagnetic one. There are magnetic mines, torpedoes and even missiles with magnetic heads of guidance. Degaussing is necessary, but it is a big problem. I remember that because of this, I had to change all the wiring to the BDK "Ivan Gren".
As he believes, the introduction of a new technology will significantly simplify the process of degaussing, since everything is done with one click on the button.
The Americans have already installed a similar system to their newest destroyers like "
Zumwalt
».
Ship degaussing is a mandatory procedure before each departure to the sea. It includes a case winding with an electrical cable. For several days, a current is supplied through it that is generated through electrolytic capacitors, which produce alternating magnetic pulses. They remove the ship's own electromagnetic field. As a result, the work of the navigation systems improves and the ship's protection from high-precision systems increases.
weapons
.