The US Department of Defense ordered a batch of APKWS missiles worth over $ 180 million from BAE Systems, reports
"Warspot"
with reference to the portal airrecognition.com. APKWS is a modernized version of the HYDRA 70 unguided rocket, which entered service with the American army back in 1948 year. In the course of finalizing the ammunition received laser sensors and rotary blades, designed for precise targeting. APKWS differs from the HYDRA 70 guidance module, which is screwed between the warhead and the rocket engine.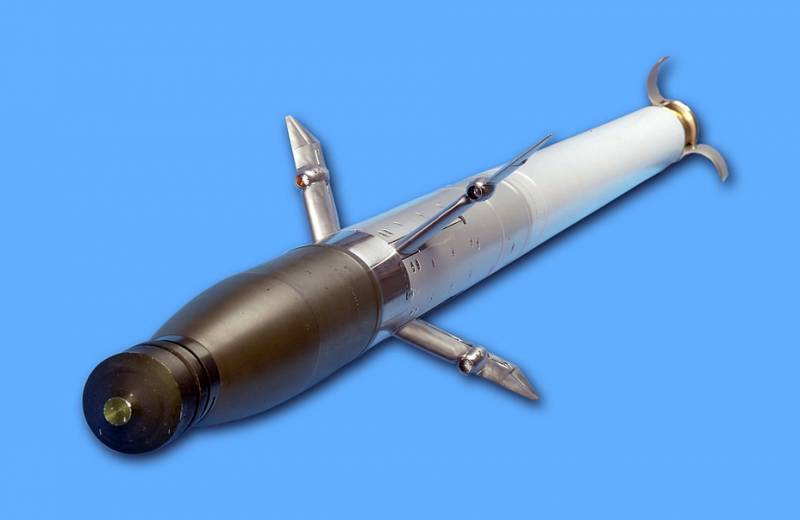 Rocket APKWS
The contract description states that laser-guided missiles are necessary to "meet the growing needs of the United States and international demand." According to Rachel Gill, head of Precision Guidance Solutions at BAE Systems, APKWS is in high demand, since these missiles are fully compatible with the HYDRA 70 launchers and are the most affordable high-precision ammunition (the cost of one missile is estimated at $ 10 000).
With the advent of APKWS, the US military got what they lacked for a long time - cheap small-caliber guided missiles. One standard launcher for HYDRA 70 / APKWS missiles holds 19 ammunition and weighs 225 kg, while most combat aircraft models can carry launchers using 2 – 4 (thus, a helicopter or an aircraft can hit dozens of ground targets on its own).
The modernization of the HYDRA 70 missiles took place in two stages: in 1996, the US Department of Defense ordered General Dynamics to the system to convert unguided missiles into guided ones, but in 2005, the program was minimized due to the inadequacy of the prototype to the army requirements. Later, the project was resumed with a new contractor, BAE Systems, which "created" the APKWS rocket, which came into service with the US Navy in 2012, and later other military structures.