Chief of the General Staff of the Armed Forces of the Philippines, Eduardo Agno, informs the media about the ongoing military operation against terrorist groups on the island of Mindanao. Recall that a few days ago, militants appeared in the city of Maravi under the black banner of the so-called "Islamic State" (prohibited in the Russian Federation). The terrorists made demands to the authorities of the Philippines that they should give independence to the Muslim regions, where the igilovtsy "will build a caliphate".
Philippine authorities have deployed army units as well as special forces police to Marawi. During the operation the day before, Filipino troops killed at least 120 militants, and also surrounded a group of terrorists of up to 100 people in one of the Maravi districts. Militants put an ultimatum - in the next three days, add up
weapon
and surrender to the authorities. All who surrendered voluntarily to the authorities promise mitigation of punishment. All others face complete destruction.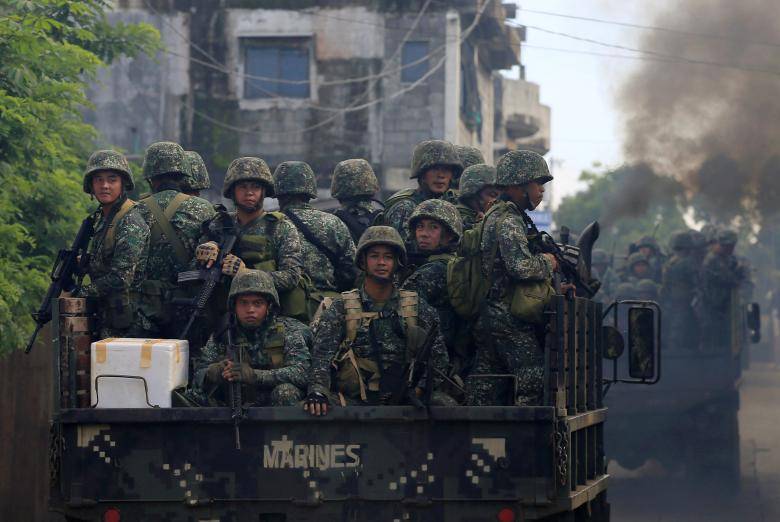 Filipino media reports state that insurgents provoke provocations using sniper weapons. The igilovtsev snipers from some of the buildings shoot at servicemen and police, and at others, at civilians who remain held hostage by the militants. This not only leads to civilian casualties, but also to the fact that the so-called human rights organizations have already accused the armed forces of the Philippines of "military actions without the protection of local civilians." It is noteworthy that the same human rights structures did not say the words of the American coalition, which continued to iron Mosul from the air along with the civilian population there ...
The Philippine press reports that the ISIS terrorist action (*) in Maravi has been prepared carefully for a long time.
An indirect proof of this is the fact that militants who oppose the Philippine army for several weeks do not run out of ammunition and food.
Leader igilovtsev in Maravi Ismilon Hapilon, as reported
Rider
, called on terrorists to use school buildings for "defense", as well as organize terrorist attacks on the roads leading to Maravi, in order to block access to the downtown Philippine forces.