According to "
Messenger of Mordovia
", In the Internet space posted photo
of the next
Iraqi BTR-80UP, undergoing modernization. It is equipped with a BMP-1 turret armed with an 73-mm smooth-bore 2-28 Thunder and a PKT machine gun of the 7,62-mm caliber.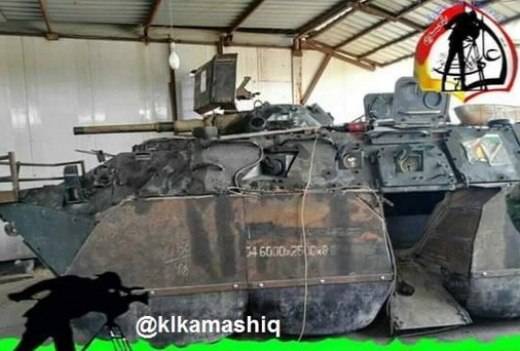 At the beginning of the 1970-ies in the USSR, the GAZ-50 was developed, which was a wheeled infantry fighting vehicle with a combat compartment from the BMP-1, armed with an 73-mm smoothbore 2A28 "Thunder", anti-tank "Malyutka" and PKT machine gun.
BTR-80UP were acquired by Iraq in the 2005 year in Ukraine in the amount of 100 units. As stated, their cost was approximately 30 million. Repairs and upgrades were carried out in Nikolaev on the basis of technical maintenance and repair of armored personnel carriers. Poland played the role of an intermediary in this transaction, and therefore the cars received the designation UE (Ukrainian-Polish). New engine D-80 power 300 hp It was designed to compensate for the increased weight due to the installation of additional armor.