On the eve of the St. Petersburg shipbuilding plant "Pella" a ceremony of launching the latest newest patrol boat of the 03160 project took place. This is a boat of the Raptor project. Boats, the production of which went to the series, are being created by order of the Russian Navy for patrol service in the sea zones.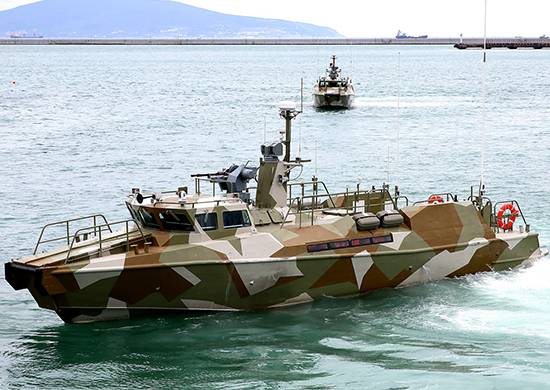 The main difference between the latest Russian patrol boats is their high maneuverability and equipment with more effective weapons for their class. The press service of the Western Military District reports that after passing the boat necessary tests, he will become part of the Baltic
fleet
Russian Navy.
From information management and press services
chief defense department
:
The boat of the 03160 project is designed to perform the following tasks during daylight and darkness:
- delivery of a group of servicemen (marines) to at least 20 people, ensuring the highest possible efficiency when loading the group on board and disembarking at the designated place.

carrying out patrols in designated areas of marine areas;
interception and retention of small targets.
participation in search and rescue operations in areas of duty.
It is added that the area of ​​application of the Raptor boats are: coastal zone of the seas, straits, estuaries in the ice-free navigation period with distance from the basing point to 100 miles.
From the characteristics:
The longest 16,9 meter, width 4,1 meter, draft 0,9 meter, crew 3 person. Boat speeds up to 50 nodes.
Armored protection - armored panels "Br4" bulletproof. Portholes with bulletproof glass 39 mm thick. Armament - a remote-controlled complex with a gyro-stabilized optical-electronic module (GOEM), caliber 14,5 mm; target detection range 3000 m; sighting range 2000 m; 2 machine gun 6P41 "Pecheneg" caliber 7,62 mm on swivel installations.