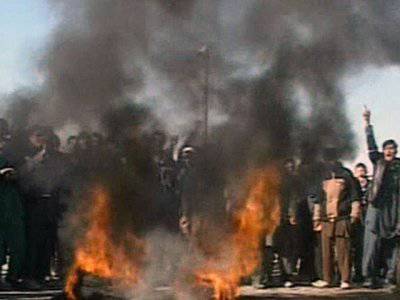 Several cities in Afghanistan at the same time covered by riots, which were caused by provocations of American soldiers. This week, on Monday, the soldiers burned dozens of religious books - and among them several copies of the Koran. Thousands of Afghans, learning of this, came out with protests on the streets. President Hamid Karzai urged citizens to calm down, and at the Pentagon they immediately apologized. However, the Afghan protesters did not stop the apology.
Anti-American slogans sound in Kabul. In the American guards, and at the same time, and local police, fly shoes, empty bottles, stones. In response, the guards opened fire. However, angry protesters shooting is not frightening, but provoke. And this is despite the fact that there are already reports of dozens of wounded and several dead - in Kabul, Jalalabad and the province of Parwan. Markets burn, protesters trash government buildings.
Once again, the cause of the unrest was the actions of American soldiers. On Monday at the Bagram airbase, Americans burned about sixty Muslim religious books, among them several Korans seized from the prison library, which is located near the airbase.
The charred remains of books were discovered by scavengers. The military began to make excuses: that the prisoners used these books to send messages to each other (they made notes on the pages). However, the demonstrators are not satisfied with the explanations.
Protester Khan Gul shouts: "Death to US puppets, their death to agents who invited them to our country! They violate all the laws of this sacred land and its people. Death to America! "
And Belyan Khan says this: "We are here to express our indignation. They burned the holy Quran. Nobody will tolerate this! "
Afghans do not accept official apologies from the US military leadership. General John Allen, commander of the international security assistance forces, used a beloved American excuse. He said that there was a monstrous mistake, which in Washington is very regrettable.
He also said: "Everyone should understand that these are only isolated cases. No need to draw conclusions from them about our attitude towards the Afghan people. We fight side by side with the Afghans, we believe that their country deserves a happy future. Therefore, I offer my deepest apologies. "
His apologies were joined by US Secretary of Defense Leon Panetta. A written statement was circulated by the Pentagon. In it, the head of the department promises to personally investigate the incident, as well as punish all those responsible.
While the US embassy in Kabul is closed. His employees are not advised to go into the city. Angry Afghans, however, found someone to vent anger on. Protesters set fire to a building in Green Village, where foreign workers lived over 1500. Now there is no place for workers to live.