The armed forces of Bulgaria during the Cold War were quite large, although more archaic than in the GDR, Poland, Czechoslovakia. At the beginning of the 90s, Sofia had 2145
tanks
, 2204 BBM, 2116 artillery systems, 243 combat aircraft, 44 attack helicopters.
Since 2004, Bulgaria is a member of NATO. Its army, like all European, has undergone significant reductions, without any renewal. The equipment produced in the Soviet period in the USSR, Czechoslovakia and Bulgaria, is very outdated, purchases of Western weapons are rare, and it is not always new.
The ground forces structurally consist of three brigades - 2 (Stara Zagora) and 61 (Karlovo) mechanized, 68 (special forces) (Plovdiv) and three separate regiments: 4 (arsenal), 55 (Engineering) ), 110-th transport (Plovdiv).
Bulgaria is one of the NATO countries, along with the United States and Turkey armed with tactical missiles. This 18 PU TR "Point" and 36 UR to them. 8 PU Ore TR ", 44 PU OTP P-17, 34 PU LR TR" are in storage, but ammunition for them under pressure from Washington, fearing the proliferation of missile technology, destroyed.
In mechanized brigades there are 80 T-72М2 tanks. BRM presented 50 BRDM-2. There are 104 BMP-23, up to 10 BMP-30, 71 BMP-1, around 200 BTR-60, approximately 150 MTLB, 17 М1117 and 30 М113А1. In the ranks 48 SAU 2C1. Towed implements: up to 156 D-20, up to 32 M-30. Mortars: several hundred 82-mm, up to 356 self-propelled 2С12 and M-43 (on MTLB chassis). MLRS - 173 BM-21. ATGM - over 300 "Contests", 200 "Baby", 222 "Fagot", more than 500 "Sturm" and 50 "Metis". VET: 16 BS-3 and 200 MT-12.
Military air defense includes 10 batteries (40 PU) SAM Kvadrat, 9 batteries (27 PU) SAM Krug, 24 SAM Osa, 20 LAW Strela-10. There are more 100 MANPADS "Strela-2", "Strela-3", "Needle-1". Anti-aircraft artillery - 27 ZSU-23-4 "Shilka", to 300 ZU-23, 16 С-60.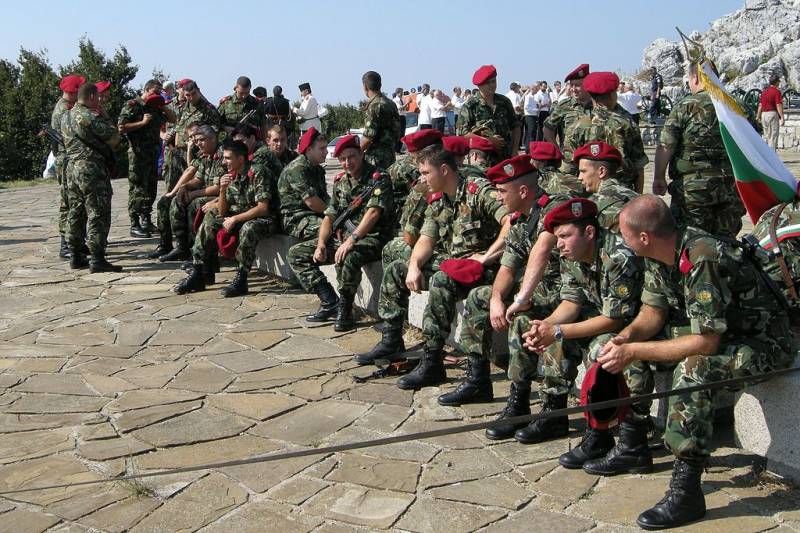 In addition to the listed equipment, there is up to 117 T-72 tanks, as well as up to 170 old T-62, up to 1521 T-54 / 55 and up to 459 T-34-85, up to 250 light PT-76, up to 624 BTR-60, to MTLB 850 to 35 Czechoslovak RT-62, 700 to APC-50, 100 to APC-152, 150 to APC-40, 530 guns to M-30, 39 to A-19, 163 to ML-20. This equipment is not listed on the balance of the Armed Forces of the country and is used as a source of spare parts and for sale abroad. In addition, through Bulgaria regularly resell the same outdated Soviet equipment Poland, Czech Republic, Slovakia, Serbia, BiH. It is Bulgaria that is the main source of weapons for all opposition groups in Syria, including the radical Islamists from the Dzhebhat an-Nusra and the IG banned in Russia.
The air force has 5 air bases: 3 in Graf-Ignatievo, in its composition all MiG-29 fighters; advanced base Bezmer, which is equipped with Su-25K attack aircraft; 16-th transport (Hostile); training (Dolna Metropolis) and 24 helicopter (Krumovo).
Shock
aviation
consists of 13 Su-25 attack aircraft (including 4 UB). Fighter aircraft totals 15 MiG-29 (including 3 UB). There is one An-30 optical reconnaissance aircraft.
Transport: 3 Italian C-27J, 1 An-2, 7 Swiss PC-12M, 1 American "Falcon-2000", 1 European A319. Training: 5 Czech L-39ZA, 5 Swiss PC-9M.
All combat helicopters Mi-24 (10 – 17 Mi-24D, 5 – 6 Mi-24В) are withdrawn from the air force. In the ranks remained transport and multipurpose: 5 Mi-17, 4 Mi-8, 6 Bell-206, 12 AS532AL. The 3 Helicopter A-109 and 1 AW-139 border guards.
Bulgaria has a fairly strong, albeit outdated ground defense. It includes 3 – 5 divisions of the C-75М3 ADMS (18 – 30 PU), 9 – 10 of the C-125 divisions (36 – 40 PU), 2 of the C-200 CTR division (12HPXHPXHPXHXXXXPX). 1PS (from 2 to 300 PU).
The Navy includes 5 battalions that have warships and boats that are deployed in two bases. The 1 Division of the patrol ships (Varna): 1 frigate Ave 1159, 2 corvette Ave 1241 — all Soviet-built. 4 Division of patrol ships (Atia): 3 Belgian frigate of the Villingen type, 1 Soviet missile boat of the Ave 1241. 3 Mine Division (Varna): 1 Belgian minesweeper of the type "Tarpitite", 6 of the Soviet minesweepers, 1259.2 Ave. and 4, 257 Ave. 6 Mine Division (Atia): 3 Soviet minesweeper Ave 1265 and 4 Ave 1258. The 96 th battalion of support includes the 1 landing ship of Polish construction 773 Ave. Naval aviation has 3 French AS565 helicopters.
Formally, a significant amount of equipment available in the Armed Forces does not provide the country with defensive capability, since it has basically developed a resource, and in a large part has completely lost combat effectiveness. Own MIC produces only small
weapon
and ammunition, and almost exclusively for export: for the most part, as mentioned above, for terrorist Islamic groups in the Middle East.
At the same time, however, there are currently no real military threats to Bulgaria. In the future, Turkey may become one with the evolution of its policy towards acquiring the status of a regional superpower.