According to information
RIA News
journalist
National Interest
Sebastian Robin believes that the German experimental
plane Horten Ho IX
was able to "turn the tide of the Second World War", providing the Third Reich Air Force with strong air dominance.
The American corporation Northrop Grumman recently announced the development of a new stealth bomber B-21, which is supposed to be performed under the "flying wing" scheme.
However, the first jet of this type was invented by the Horten brothers who served in Nazi Germany. He received, though not quite deservedly, the title of "stealth fighter for Hitler."
The development of Ho IX was initiated by the Reich Minister
aviation
German Goering, who set the task of creating an aircraft capable of speeds of 1000 km / h with a bomb load of 1000 kg and a flight range of at least 1000 km. The design of the aircraft, carried out according to the "flying wing" scheme, was demonstrated by the Horton brothers, who conducted experiments with tailless gliders. The machine had an original aerodynamic design that reduced air resistance, made it possible to save fuel and made it possible to use the latest jet engines.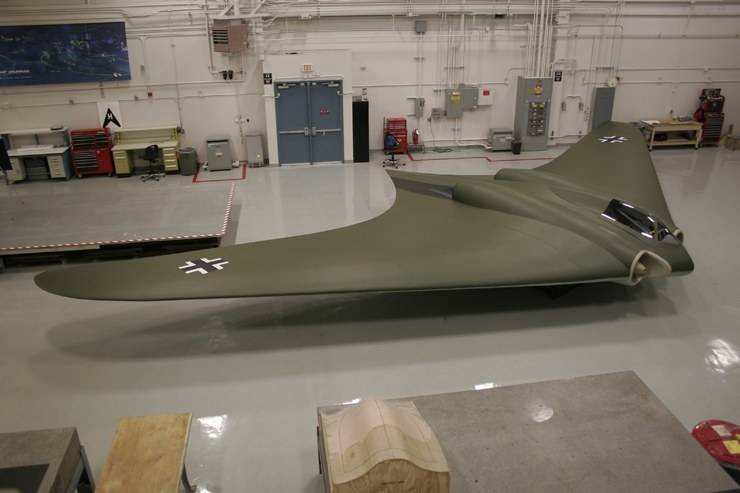 Soon the project was approved. Gotha was given an order for the production of 40 aircraft. In February, 1945, the first tests of serial copies. But in April, the Allied forces entered the city of Friedrichroda, where the Ho IX release was adjusted. Several units of the experimental machine were in the hands of the United States.
S. Roblin believes that the opinion of the low visibility of the aircraft is not justified.
However, the "flying wing" scheme itself reduced the effective area of ​​reflection, which is typical of stealth aircraft.
Air superiority of the machine, in his opinion, provided a high speed of flight.
Time to detect the aircraft is not too important if it can beat any interceptor. In the sky of World War II, the IX could become a truly formidable machine. But by the end of the war he was still very far from mass production.