Rolling out the first F-35B "Lightning-2" fighter in the short-takeoff and vertical-landing version assembled outside the United States took place on May 5 on the Final Assembly and Check Out line in Cameri (Italy), reports
TSAMTO
.
The company belongs to the Italian Ministry of Defense and is managed by Leonardo together with Lockheed Martin. Around 800 specialists assemble airplanes with normal takeoff and landing of the F-35A and the F-35B variant, as well as the production of wings for the F-35A.
According to Lockheed Martin, the aircraft, designated BL-1, will perform the first flight at the end of August and should be transferred to the Italian Ministry of Defense in November.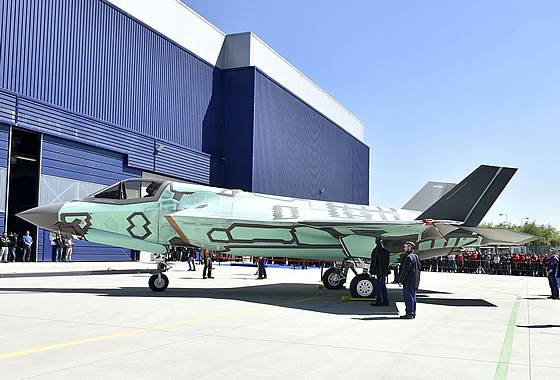 Two more F-35A aircraft will be assembled on the line at Cameri in the current year: the first by July, and the second by the fourth quarter. So far, the company has produced seven F-35A, four of which are now located at the Luke base (Arizon) to participate in the international pilot training program, and three at the Amendola air force base in Italy. The total flight time of the Italian Air Force pilots on the F-35A stationed in Amendola exceeded the 100 hours.
As planned, after a series of control flights based on Cameri, at the beginning of 2018, the Italian pilot will perform an F-35B flight on the Patuxent River airbase (Maryland) as part of an assessment of the effects of electromagnetic environmental effects. The next Italian F-35B is to be delivered in November 2018 of the year.
The FACO final assembly and inspection line in Cameri is the only company that produces F-35B outside the USA. This line should produce a total of 30 F-35B and 60 F-35A for the Italian Air Force, and 29 F-35A for the Netherlands Air Force. In addition, the plant may receive additional orders if F-35 is selected by other European countries. In December 2014, the Pentagon also stated that the company in Italy will provide maintenance, repair and modernization of F-35 fighter jets to the USAF stationed in Europe. The plant will also manufacture X-NUMX F-835A wing kits.
The first Italian-made F-35 performed the first in
stories
the international flight program 7 September 2015, and in February 2016, the F-35A performed the first transatlantic flight. In December 2016, the first pair of F-35A aircraft delivered by the Italian Air Force landed at the Amendola airbase.