In Estonia on Tuesday to participate in the largest in
stories
the country the exercises "Spring Storm" arrived four US Army helicopters AH-64 Apache and two UH-60 Black Hawk helicopters, later the third Black Hawk will join them, reports
Interfax-AVN
According to the press service of the Estonian Defense Forces, combat vehicles are part of the US 10 Combat Air Assault Brigade and in the framework of the NATO operation Atlantic Resolve are based in Latvia at the Lielvarde airbase.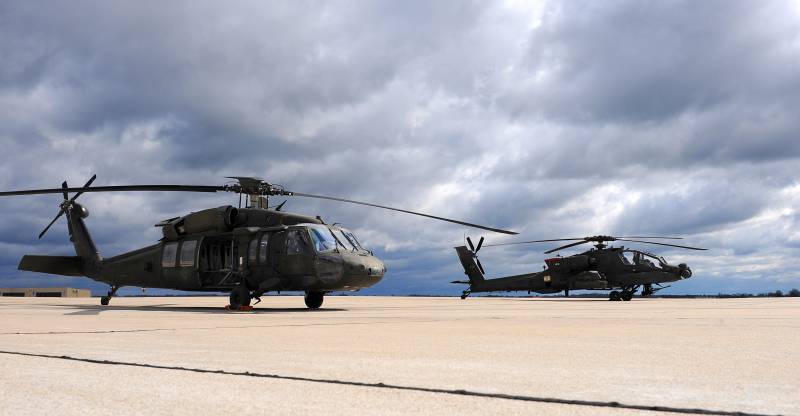 archive photo
The exercises "Spring Storm" have already begun for the Estonian Air Force, since the defense of the air base has been practiced since yesterday at Amari airbase (Amari). In the coming days, on our roads, it will be possible to notice the movement of columns of passive radars of the air force. The active phase of flights will begin next week.
- told the Chief of Staff of the Air Force Lieutenant Colonel Toomas Susi (Toomas Susi).
On Monday, exercises began in Estonia, in which about 9 thousand people take part, including military personnel from NATO allies. Mostly, in the "Spring Storm" infantry units and subunits are involved, but the naval and air forces are also involved in the exercises. The exercises involved heavy military equipment of the Estonian Defense Forces, as well as
Tanks
M1A2 Abrams, Challenger 2 and Leclerc, infantry fighting vehicles Warrior, Bradley, VBCI NATO allies.
In addition to the British, French, Danes, and Americans based in the military town of Tapa, soldiers and officers from Canada, Germany, the Netherlands, Poland, Finland, Sweden, Latvia, Lithuania, Ukraine, and Georgia are specially arriving in Estonia to participate in the exercises. They are supported from the air
aviation
funds from the USA, Poland, Belgium and Spain.
The final build will take place on May 25 at the Central Range of the Defense Forces.