On May 5, at the Vympel shipyard (Rybinsk), a groundbreaking ceremony for the sea transport of the 20360M project weapons (01551 serial number) will be held, reports
news.rambler.ru
with reference to the press service of the enterprise.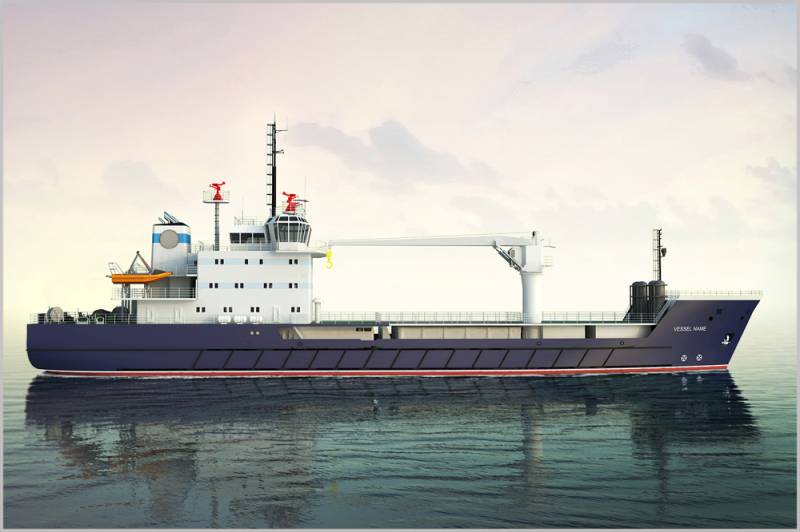 Project image of sea transport armament project 20360M
.
By order of the Commander-in-Chief of the Navy, the ship was given the name Gennady Dmitriev,
says release.
Earlier, the press service reported that the plant would build an 2М vessel for the transport of ammunition, including sea-based missiles, for the NNXX Navy.
"Two maritime weapons transport, which are assigned serial numbers 01551 and 01552, must be delivered to the customer in 2019 and 2020, respectively. The lead ship will serve in the Black Sea
navy
. The ship with serial number 01552 is in the Baltic Fleet, "the publication said.
The corresponding contract was signed by the Ministry of Defense in April 2016. KB "Vympel" (Nizhny Novgorod) adjusted the basic project 20360 "Dubnyak" under the technical requirements of the military department.
Publication certificate: "The 20360М maritime transport armament ship has ice hull reinforcement, double bottom and double sides, two cargo holds, a platform for the carriage of cargo in containers, a 20 crane with a tonnage and a nasal helicopter landing pad. Purpose of sea transport of armament: reception from berths and transfer to ships in basing points and on the open roadstead of special cargoes. Vessel length 77 m, width 15,8 m. "