Deck reconnaissance and attack helicopters Ka-52K Katran (ship version of the Ka-52 helicopter "Alligator") successfully passed preliminary sea tests, reports
Interfax-AVN
with reference to the press service of the holding "Helicopters of Russia".
The Ka-52K helicopters manufactured by the Russian Helicopters holding company (part of the Rostec State Corporation) completed the first stage of sea trials. Currently, the machines are located at the base of JSC Kamov, where specialists complete the assessment of the status of helicopters and their individual units after completing tasks in difficult climatic conditions
- Said the press officer.
According to him, at this stage of testing from the end of 2016 to the beginning of 2017, two Ka-52K helicopters participated.
According to the results of the tasks set by the command, the tests of the helicopters were recognized as successful.
- stressed in the holding.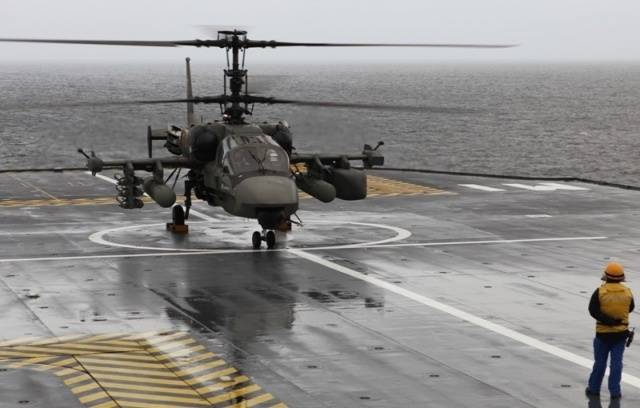 The Ka-52K helicopters completed the first stage of testing in marine conditions, the results of which suggest that the machines can be placed on board the aircraft carrying cruiser and successfully complete the assigned tasks. The helicopter has unique characteristics, but one trip to the sea is not enough to understand how its engines, units, avionics, control systems and weapons in the maritime climate behave. The work of the design office will continue as part of the tests, including on the aircraft carrier
- noted the Deputy Director General of "Helicopters of Russia" for sales Vladislav Savelyev.
The Ka-52K Katran helicopter is a continuation of the marine helicopter product line developed by Kamov AO and adopted by the Russian Navy. This line includes such helicopters as: Ka-25, Ka-27, Ka-29, Ka-31.
The Ka-52K helicopter is intended for patrolling, fire support of the landing troops during disembarking, solving the tasks of antiamphibious defense at the front edge and tactical depth. Modern onboard equipment provides the helicopter navigation in the absence of landmarks in the sea.
The Ka-52K differs from the basic model by the presence of a shortened folding wing, which was modified to accommodate heavy weapons, and a blade folding mechanism, which allows it to be placed compactly in the hold. The reduced dimensions of the ship-based Ka-52 helicopters make it possible to increase the maximum possible number of helicopters placed on the ship.
Earlier it was reported that the newest Russian naval reconnaissance and attack helicopter Ka-52K Katran made successful test flights as part of the cruise of the Admiral Kuznetsov heavy aircraft carrier cruising the Mediterranean.