The Mangystau rocket-artillery ship (project 0250, code Bars-MO), built for the Navy of Kazakhstan, was launched at the Ural Zenit plant (part of the National Company Kazakhstan Engineering JSC).
bmpd
.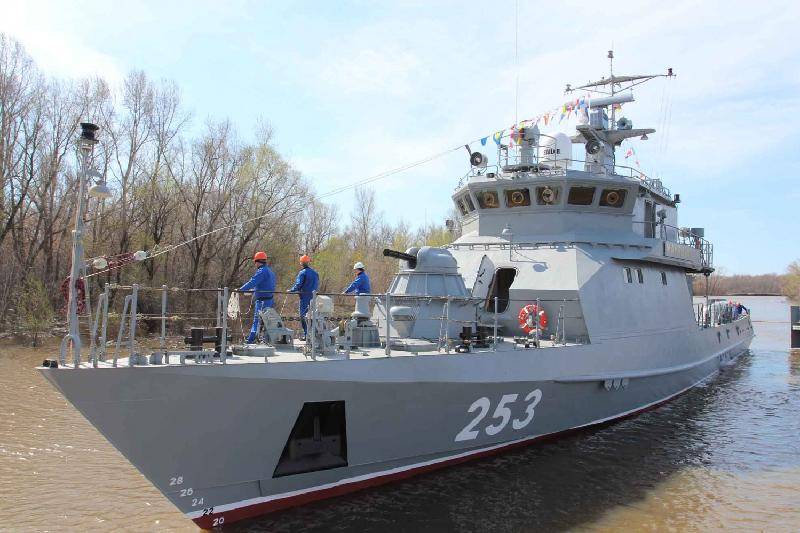 By the end of the year, the ship must be handed over to the customer. This is the fourth ship of the 0250 project, which is an enlarged version of the 0300 draft patrol boats being built for the Republic's Border Guard Service.
Rocket and artillery ships of the 0250 project ("Bars-MO differs from the 0300 project increased by the length of the hull from 40,6 to 46 meters and by the modified architecture).
"The standard displacement of the rocket-artillery ship of the 0250 project is stated in 240 tons (head, the following - 250 tons), and the maximum speed is in 30 knots. The power plant consists of two Deutz TBD620V16 diesel engines rated at 2240 kW each. Sailing speed with a speed of 12 nodes - 1200 miles, autonomy - 10 days. The crew of the 23 person (31 placement is possible), "says the material.
The ships have a tank 30-mm artillery X-NUMX-barreled AK-6, as well as two development complexes of the Ukrainian enterprise Luch Design Bureau - the Arbalet-K turret launcher with four Igla anti-aircraft missiles and the Barrier-VK complex with four anti-tank guided missiles RK-306В with laser-guided.