According to the news portal "
Interfax
", Deputy Director General of the Foundation for Advanced Studies (FPI), Igor Denisov, reported that the developed robotic
platform "Nerekhta-2"
will be able to move in conditions of poor visibility, assist fighters in eliminating heavy targets and understand speech.
"Nerekhta-2" is not a complete product, but a platform on which various technologies will be developed, in particular, technical vision and the associated algorithm for recognizing obstacles and automatic movement under noisy conditions: smoke, rain, snow, and much more.
- explained I. Denisov.
Nerekhta-2
Among other technologies on this platform, new energy supply and electric propulsion systems are being developed: promising hybrid drive systems and new batteries, new types of electric motors with high specific characteristics. The deployment of various equipment contributes to the modular principle of the platform. At the same time, unified management standards, unified seats are determined.
"Nerekhta-2", unlike its predecessor, will have in its composition a component that will allow working with a person. These are devices and interfaces, mounted in combat gear, which will help to control the robot more efficiently on the battlefield, where it is impossible to use a joystick and a computer, like today. This is a speech management using a laryngophone - naturally, no one will shout commands on the battlefield, this is also gesture control.
(Apparently, under the predecessor was meant the complex "DUM" - a remote-controlled machine. Weight around 1 t. Armed with a 7,62-mm PKT machine gun. Control radius to 1,5 km. Presented to the public in 2010, -
IN
).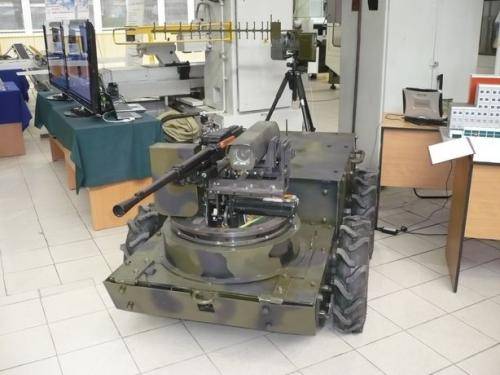 "DUM"
In his words, promising systems for targeting individual rifle
weapons
will give the robot the opportunity to observe the battlefield through the eyes of a human operator.
And then he will be able to act as an assistant to a person in solving tasks of hitting targets that a soldier cannot hit or does not manage to hit from his personal weapon, but a robot can.
The structure of the Nerekhta-2 robotic complex is supposed to include light airborne vertical take-off drones, which will have a positive effect on the overall performance of the system.
At the same time, a person can use the heavy armament of the platform, observe the situation with the "eyes" of the UAVs, thereby significantly expanding their physical and combat capabilities.