The solemn ceremony of launching a new generation anti-sabotage boat "Rook" (project 21980) for the Russian Navy was held at the shipbuilding enterprise "Vympel" in Rybinsk, reports
Department
Information and Mass Communications of the Ministry of Defense of the Russian Federation
This is the third boat built by the Vimpel shipbuilders.
After launching and carrying out mooring tests, the boat will make the transition to Kronstadt, where factory navigation and state tests will be held, after which the St. Andrew flag will be hoisted on the boat. It is planned that the boat will be part of the North
fleet
.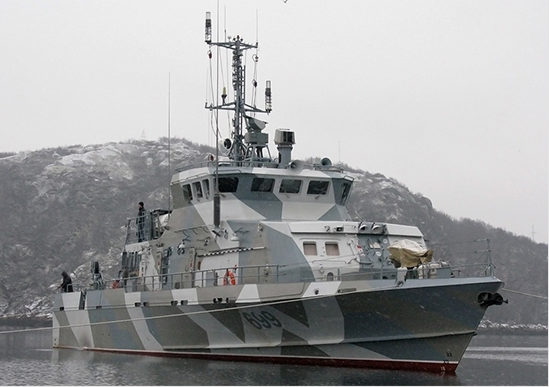 21980 anti-sabotage boats being built for the Navy as part of the shipbuilding program and entering the fleets are an essential element in the activities that are carried out by the Navy Main Command to create an integrated system of basing ships and submarines at their points of deployment. This base system must be reliably protected. The function of such protection can effectively perform counter-sabotage boats such as "Rook". They are entrusted with the responsible tasks of the anti-sabotage service in the points of deployment of fleet forces, in the waters adjacent to the basing points and in certain sea areas. Along with the construction of ships in the far sea zone, the Main Command of the Navy will continue to pay attention to the development of ships and boats that ensure the safety of the coastal waters in the operational fleet areas
- said Deputy Commander-in-Chief of the Navy for armaments, Vice Admiral Viktor Bursuk.
The onboard armament of the "Rook" anti-sabotage boat includes: MTPU machine gun of 14,5 mm caliber, DP-64 anti-sabotage grenade launchers, DP-65A, Igla-1 portable anti-aircraft missile system.
The displacement of the boat is more than 138 tons, 31 length, meter, Width, more than 7 meters Maximum speed, 23 knot, Navigation distance, economic speed, more than 200 miles.
Earlier, in January, in the main closure of the submarine forces of the Northern Fleet, in ZATO Gadzhievo, the Navy flag was raised on two new anti-diversion boats of the 21980 Rook project built at Vympel JSC