European Commissioner for International Affairs Federica Mogherini, who visited Moscow, noted that her first visit to the Russian Federation in this position is a demonstration that relations between the European Union and Russia are not frozen. Having met with Russian Foreign Minister Sergei Lavrov, Mogherini touched on issues of EU interaction with the Russian Federation in several areas.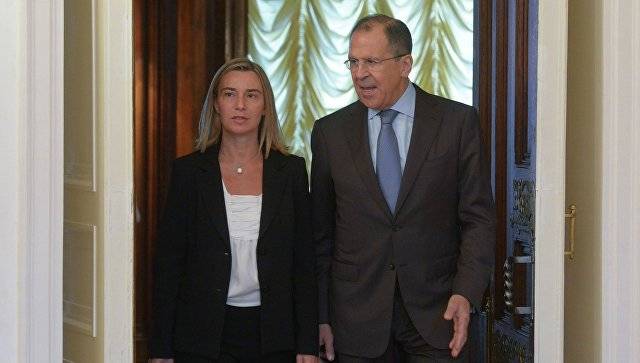 Among such areas are Iran's nuclear program, bilateral relations between the Russian Federation and the European Union, the situation in the Donbas, military and humanitarian crises in Syria, Libya, and Afghanistan.
During the negotiations, as reported
RIA News
Mogherini said that the interaction with Russia on these issues will not lead to the abolition of anti-Russian sanctions imposed earlier against the Russian Federation. According to Mogherini, Moscow and Brussels cannot consider each other as strategic partners.
Mogherini:
We face common tasks related to the fight against terrorism. And I want to once again confirm our interest in this cooperation on such sensitive issues as the situation in Syria, Libya. Indeed, we have a wide range of issues for discussion. At the same time, it would be absurd to consider each other strategic partners and have mutual sanctions - this is not the kind of relationship that partners usually have.
The head of Russian diplomacy during the briefing told reporters that the topic of sanctions was not specifically discussed, but this issue "inevitably surfaced."
At the same time, the issue of sanctions by Federica Mogherini was no longer tied to the Crimea, but to the implementation of the Minsk agreements.
As part of the talks, Sergey Lavrov asked the EU colleague about why so principled Brussels imposed sanctions solely on Russia, which de jure is not even a party to the Minsk agreements?
Russian Foreign Minister:
We strive to do our part in good faith, but, unfortunately, Kiev is moving away from direct dialogue with Donetsk and Lugansk, although this is recorded in black and white in Minsk documents. But, of course, if the position of the European Union is that everyone must fulfill their part of the obligations, then the question arises: why are sanctions only against Russia?
Following the meeting, the Russian Foreign Ministry noted that, despite the EU sanctions policy towards the Russian Federation, mutually beneficial cooperation will continue to build on the basis of an objective interconnection between economies and the territorial neighborhood.