"Military Review" has a birthday today. We, working in the vast Runet, turned seven years old. The age, of course, is far from the one about which they say "gray-haired media", but over the years our information and analytical website has reached certain scales not without your, dear readers. And this means that "Military Review" is our joint work - work on publication and discussion, I want to believe interesting and important topics from the point of view of Russian interests.
During all these seven years, we tried to do everything so that the information published on the site found a public response, and we will continue to do so in the future.
So, the "Military Review" - the seven-year anniversary. And what a birthday without gifts? And we decided to give our regular readers gifts in the form
50% subscription discounts. The discount will be valid for several weeks - until the end of the May holidays.
Everyone can now save money by subscribing to the paid version of "VO" to get rid of advertising when they get acquainted with the materials on our website and get additional bonuses in the form of pleasant surprises (including gifts). Again, once again, saying that the free version of the Military Review does not disappear anywhere and continues to work in its usual mode.
We also implemented a new opportunity for our subscribers - the choice of straps by type of troops. To change the chase, go to your profile and click on the chase. In the drop-down menu, new shoulder straps will appear, as in the screenshot below.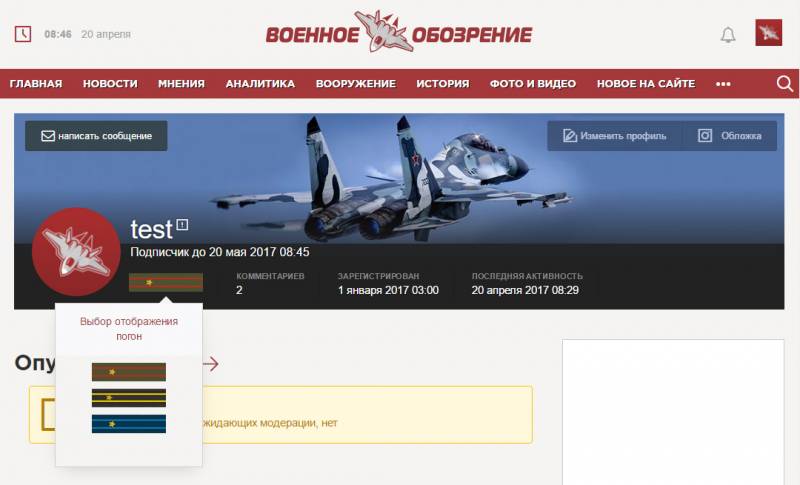 We sincerely hope that the informational activity of "VO" and after seven years of work of the team of the site does not cease to be interesting to you, our dear readers!