The Institute of Control Problems named after Trapeznikov began the development of a multifunctional unmanned tethered high-altitude platform with a long duration of flight, reports
RIA News
citing a source in the Russian defense industry.
The basis for the development of a new product is the developed technology of transferring high-power energy from a ground-to-point drone to high-power copper conductors of small section. The platform used is a multi-rotor unmanned aerial vehicle of helicopter type,
- Said the source agency.
According to him, in fact, the duration of the flight of such a device depends only on the supply of electricity from the ground by wire and the wear of the drone parts.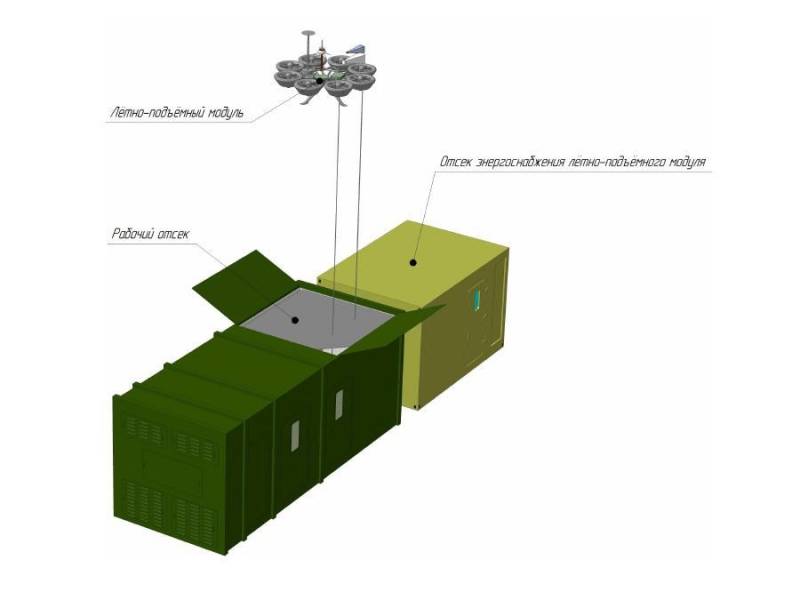 The complex includes a ground-based energy conversion station, a Kevlar-based cable cable with three copper conductors of small cross section for transmitting electric power to the UAV for powering electric motors and equipment for the payload of a drone, fiber-based cable for high-speed information transmission, and a helicopter unmanned vehicle such as a multi-rotor circuit, equipped with an onboard flight control and stabilization system and a GLONASS / GPS-based navigation system.
The power of electricity transmitted from land to board - up to 20 kilowatts. The device can lift the payload with a mass up to 30 kilogram to a height of up to 300 meters. The ground-based component of the system in a mobile version may include a mobile power station with a power of 100 kilowatts, with a residential module on the KAMAZ 43114 chassis, or in the field - a diesel power station with a power of 25-30 kilowatts.
The deployment time of the complex is no more than 10 minutes. The system allows operation at temperatures from –50 to + 50 degrees Celsius. The device can fly at wind loads up to 15 meters per second.
This system can be used in communication systems and to ensure the security of military facilities, as well as the Border Guard Service, where it can be used to monitor the state border.