According to the blog
bmpd
, 12 April this year, the Czech government has approved the issuance of the War Department contract worth 1,5 bln. CZK (about 60 million. Dollars.) Czech company Tatra Trucks, provides modernization 33 152-propelled howitzer Dana vz.77 wheeled chassis formula 8h8, in service with the army of the Czech Republic.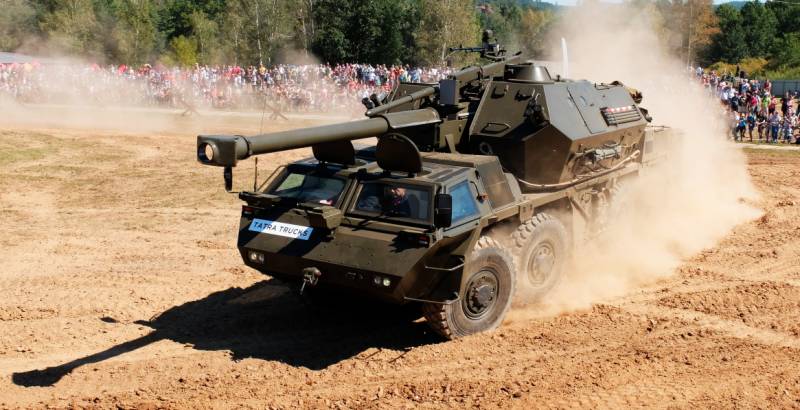 It is assumed that Tatra Trucks will upgrade the 33 chassis of Dana howitzers with their shipment in 2018-2020. The new version will receive the designation Dana M1M.
The Dana M1M modification was introduced in August 2016. It differs from the basic version of the new cabin with improved ergonomics and security, a new filtering unit, air conditioning and heating systems. The engine of the ACS Tatra T-930 will be upgraded in order to increase the resource, efficiency and improve compliance with modern environmental requirements. The machine will acquire a new semi-automatic Tatra-Norgren transmission, an auxiliary power unit, an all-round video camera system, new lighting equipment, a centralized tire pressure monitoring system and upgraded hydraulic drives.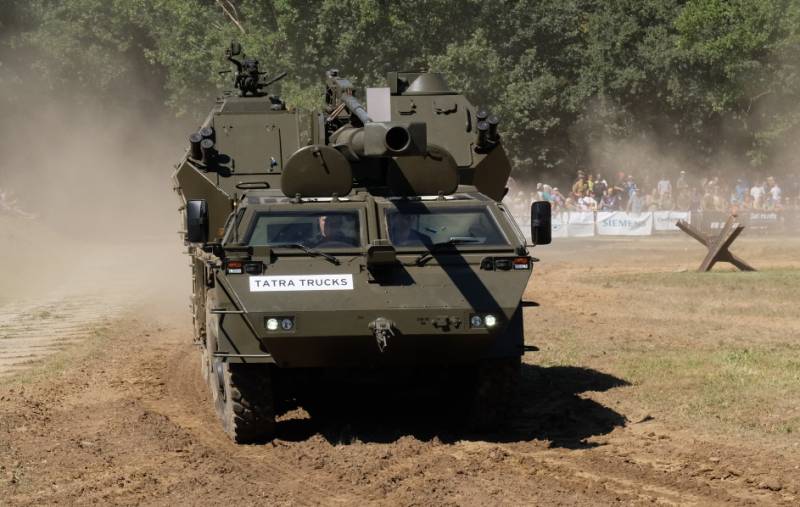 Within the framework of separate tenders, SAUs must receive GPS navigation equipment and communication systems (they will be acquired in the USA), a new fire control system. The latter was developed by the Czech company Retia, which is part of the CSG. The work will be carried out by the Czechoslovak Group (CSG) - a recently created association of Czech and Slovak defense enterprises with the participation of the STV Group. The production site will be the former armored repair plant in Sternberk.
The Slovak companies MSM Martin and ZVS Nová Dubnica, in partnership with the Czech company Explosia, are expected to supply new 152-mm artillery ammunition, including high-explosive fragmentation projectile DN1CZ of improved aerodynamic shape with a bottom gas generator and a core charge element, and a core element, which is equipped with a bottom-hole gas generator and an effective aerodynamic shape with a bottom-line gas generator and a sill-type explosive charge generator and a core gas generator and a core gas generator and a core gas generator and a bottom-hole gas generator and a core gas generator and a core gas generator with a bottom gas generator and a core gas generator and a core gas generator and a ground gas generator DN740CZ. Its firing range from a Dana cannon is 25,5 km (the usual projectile is 18,7 km).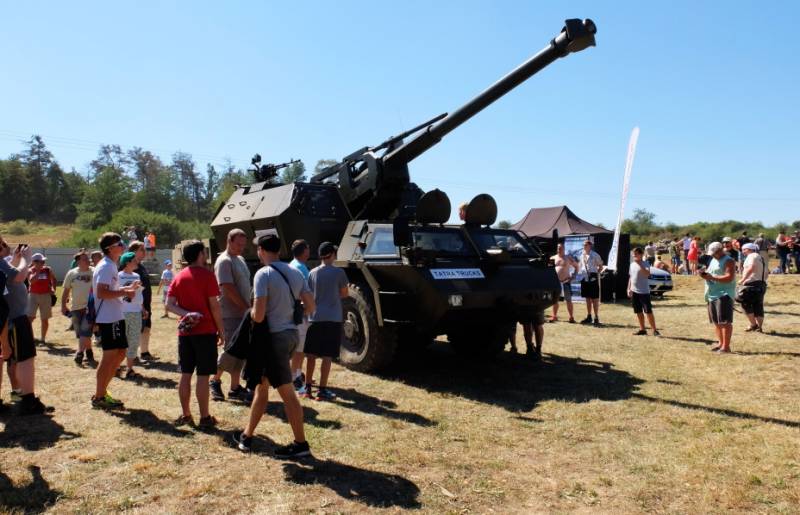 In addition, it is planned to allocate 2,5 billion kroner for the purchase abroad 2022 17 of modern self-propelled howitzers 155-mm / 52 with a firing range of up to 40 km and 2 billion kroons for the purchase of ammunition for them.
The Dana howitzer to be upgraded was developed based on the Tatra 815 running gear and was mass-produced by ZTS Dubnica (Slovakia) from 1981 to 1993. Altogether, along with experienced and pre-production samples, around 750 systems were released. 415 of them received the Czechoslovak People's Army, 120 - USSR Armed Forces, 111 - the Polish Army and 80 - Libya. Later, on its basis, ZTS Dubnica developed improved versions of Ondava (with 152-mm / 47 howitzer), Zuzana (with 155-mm / 45 howitzer) and Zuzana 2 (with 155-mm / 52 howitzer), of which only Zuzana was mass-produced (16 was supplied to the army of Slovakia and 12 to Cyprus).